Skyline Chili Helps Cincinnati Cooks! Graduate Further Her Training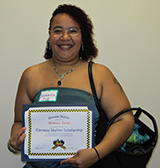 Nicholas Lambrinides, great grandson and namesake of Skyline Chili founder Nicholas Lambrinides, bestowed the first annual Glenway Skyline Scholarship to Cincinnati COOKS! graduate Berenice Torres at the 100th graduation ceremony recently.
To commemorate their family legacy and support the Cincinnati community, four of Nicholas Lambrinides' great grandsons contributed a $30,000 endowment to the Cincinnati COOKS! Program – meant to be given to graduates annually to further their education at the Midwest Culinary Institute at Cincinnati State. Berenice was chosen for her skill and ambition among other criteria. She is among 840 graduates the program has turned out in 10-week cycles over the past decade.
About Cincinnati Cooks!
Cincinnati Cooks! is a free, ten-week program of the FreeStore/FoodBank that prepares students with financial challenges who are looking to improve their lives, for work in the food service industry. During the program, professional cooks teach them culinary skills, along with job and life skills. The goal is help people age 18 and up to succeed both in the kitchen and in their personal lives. Cincinnati Cooks! students work with donated and purchased food in the Rosenthal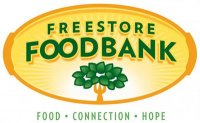 Community Kitchen.
What happens to the meals prepared by Cincinnati Cooks students?
Most of the snacks and meals prepared by Cincinnati Cooks! students are served at Kids Cafe. The Kids Cafe program provides free, hot, after-school meals to children who might otherwise go hungry outside of school.