A Teacher's Perspective On The Needs At Oyler School
It is during the holiday seasons when we are reminded the most of how kindness, compassion and love can boost spirits and change lives. While we are celebrating with our families, it is important to remember there are adults, parents, families and children who are struggling to have their basic needs met. We need to keep them in our hearts but we also need to reach out and give as we can to help eachother – a few coins in the kettles, food for meals, gifts for wishlists, your donated time through a social service agency or simply helping a neighbor or friend, even a simple smile can make all the difference.
A teacher, at Oyler School in Cincinnati's Lower Price Hill Danielle Codling-Mangano wrote for a parenting group about her observations of the impact of kindness on students there. (I am reprinting it with her permission.) Please take a few moments to read her note. And, if you feel moved to make a donation, please contact the school at (513) 363-4100.
"Today was amazing. The staff and an army of moms arrived and worked to get the room organized. We sorted bags and boxes of clothes. We tried to cozy the boiler room with the posters kids made and put a rug down so they could sit on something comfy while waiting to shop. We also put out some fresh fruit for kids…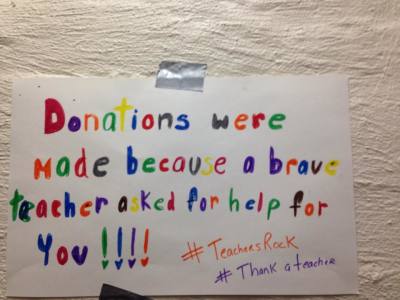 Let's start there. We had a seven year old sing a song about getting a banana! Did anyone eat their bananas or cuties? No they packed them… probably for hungrier times but they were very happy to get fruit! Access to fresh produce is very limited Lower Price Hill it is classified as a food dessert.
The book that a 6th grade girl had donated from CMH was given to a fantastic young lady!!! Her face lit up like a Christmas tree when I told her a 6th grader from another school wanted a nice student at Oyler to have it. She told me she would pass it to friend when she is done. She was reading it walking up the stairs!
We had some staff at Oyler come to shop for kids who were too embarrassed to come down themselves.
The staff was looking for a double stroller for an 18 year student who just had her second baby. Someone called me to say, for that student's birthday her mom gave her $150 to spend on kids at Oyler! This mother of two will be picking up a double stroller at Once Upon a Child tomorrow, which also means the young lady will be able to bring her kids to daycare at school and finish her studies and graduate. Today she couldn't bring her one year old because she only has a single stroller.
I helped a 10 year old boy who the staff identified as "having nothing" get some clothes. In this district that label means a lot. He was wearing a short sleeve shirt and pants that didn't fit. Every time he tried something on that fit, his face went into a smile that just melted me. He was thrilled to have a coat, socks, pants that fit and a sweet down vest that one of you donated. He asked me after filling up his bag if he could keep it all. I said yes and shamelessly asked if he wanted a hug… He did… SO AWESOME…
We had a preschool class come through that couldn't be cuter… some were wearing shoes about two sizes too small.. one boy had a huge hole in his jeans and mud caked on them..Though these little ones had little material things they had a lot of smiles!! They were so happy to get new clothes, etc…
I saw friends helping kids frustrated when they couldn't find the sizes kids needed…However we had a list and guess what tomorrow they will receive PJ's and things that they needed! A friend who was there for the first time today… left and began to shop around she dropped off bags full of clothes at my house… more people offered support via text….! Oyler's community bucket is overflowing with love and compassion from you!!!!
We had a staff member come close to tears expressing her complete awe for all that you are doing for this community!!"