Anderson Township Students Shopped For Beech Acres' Families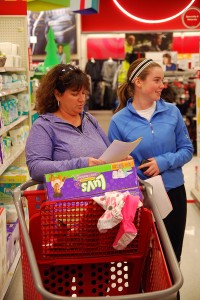 Pennies and quarters at a time, students from Wilson Elementary, Summit Elementary, and Nagel Middle School collected nearly $7,000 in change to purchase holiday gifts for more than 200 needy local families who participate in Beech Acres Parenting Center programs. They bought their presents at the Anderson Target store last week and I had so much fun taking their pictures. It was part of the Shop & Share Holiday Project, a Beech Acres Parenting Center tradition. Forest Hills students and Beech Acres supporters raise money and shop for families facing financial hardships.
 "For every $100 that the students donate, we are able to help another family. It's been so exciting for them each morning when we announce how many families they've helped that day," said Jen Schlosser, who coordinated the school fund-raising efforts. "The kids are surprised and humbled by all the things that people are asking for."
An estimated 205 Beech Acres families will receive gifts this year.  Now that is a good thing!