Andrea Francisco: Experiencing Taiwan – Part One
Andrea Francisco lives in Cincinnati and is a soon-to-be-senior at Indian Hill High School. She will also be interning with me this fall to share her thoughts through my blog. I will have more information about her later, but for now she is sharing her wonderful experience as an exchange student this summer traveling to Taiwan. This is the first of a three-part series.
By Andrea Francisco, part one
Please click here to read part two.
Please click here to read part three.
I have always wondered what the lives of kids just like me feel like halfway around the world. This summer, for the first time ever, I have been given the chance to experience not only the contrasting lives of the Taiwanese, but also the city life of people living in New Taipei City. As a suburban girl, I am more used to seeing rows of green lawns than rows of apartment buildings. Throughout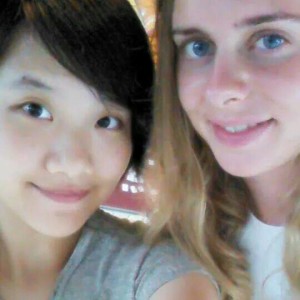 this unforgettable experience, I have found that while my life is sometimes different than my host-family buddy, Carly, it is more often than not similar. Like me, she experiences the same kinds of social and academic pressures from her friends, family, and classmates. The difference is that while she is sipping bubble tea at lunch and taking the MRT train to school, I am gulping down cartons of fortified skim milk and riding a yellow school bus. To clarify, bubble tea is a popular drink in Taiwan, consisting of milk, tea, and tapioca balls (which are surprisingly delicious!).
Thanks to the Cincinnati, USA and New Taipei City, Taiwan student exchange program, I have been able to create precious memories with my host family that will last a lifetime. I stayed with a girl my age named Taso Yu-Sin, but I called her by her American name, Carly. My host family treated me like a princess; they spoiled me with great food and numerous gifts. However, they also showed me a different way of life, the Taiwanese life, which makes me question how I live mine back in the states. Without this experience, I would never have known what it is like to live in an apartment in New Taipei City, which highly contrasts with my cookie-cutter suburban life. In terms of differences in lifestyles and cultures, I learned that the Taiwanese bring their own personal toilet paper to the bathroom rather than using a community roll. I found this a little annoying at first, because I kept forgetting to bring my toilet paper to the bathroom when I had to go. However, over time, I realized that it was not that hard to remember once you got used to it and may be more sanitary. Another difference in our culture relating to sanitation is that the Taiwanese always wear slippers in the house — never shoes or barefoot. Similarly, I was a little irked at the idea of having to take my shoes off every time I entered the house, but over time came to embrace it. Again, I found that this practice makes sense because it leaves the floor and your feet cleaner. Furthermore, my host family treated me to countless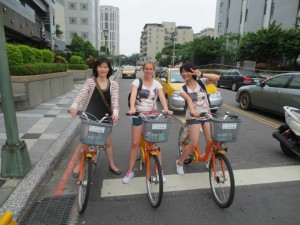 activities, such as visiting a night market, Chiang Kai Shek Memorial Hall, Modern Toilet, a swimming pool, hot springs, and many more. I want to thank my wonderful host family for being so kind and generous to me for the past two weeks. Also, I thank you for all of your efforts to get to know me and talk to me, despite the language barrier. May we meet again someday, whether in Taiwan or the USA!