Andrea Francisco: Experiencing Taiwan – Part Two
Andrea Francisco lives in Cincinnati and is a soon-to-be-senior at Indian Hill High School. She will also be interning with me this fall to share her thoughts through my blog. I will have more information about her later, but for now she is sharing her wonderful experience as an exchange student this summer traveling to Taiwan.
This is the second of a three-part series. Please click here to read her part one.
By Andrea Francisco
I have to admit, before heading with Carly to the MRT train station that would take me to her boarding school, I was a little nervous. Her high school, named Shuang-Xi, was to host me along with Claire, another American girl from our exchange group, for three consecutive days. Temporarily, Claire and I would have no contact with other Americans, and it would be as if we were Taiwanese ourselves living our daily lives. Actually, Claire is ethnically Taiwanese as her parents are both from Taiwan, but culturally she is just like any other American teenager. Throughout the three days, Claire and I greatly bonded as the only fully-speaking English people and became good friends. We also made friends with countless Taiwanese students, who were always excited to see us and ask us how American life is. One of my favorite things we did together was at our farewell barbeque, where we slow-roasted everything from chicken to tofu in barbeque sauce. Overall, it was truly amazing to see how beautifully our cultures could mesh, and I am excited to find out more ways to exchange our cultures.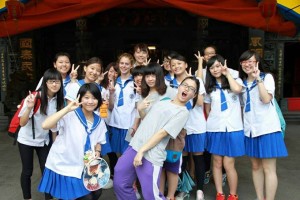 All in all, Shuang-Xi high school has taught me so much about the lives of teens just like me who happen to live halfway around the world. I am very impressed with how kind and friendly everybody is there. As one of the four students lucky enough to go to boarding school with their host buddy, I was unsure of how the next three days would look like. However, after spending only a few days at this school, I had made many new friends that touched me and made me think differently about the world. Furthermore, there are many differences between my high school in America and my host school in Taiwan. For example, at Shuang-Xi students stay in the same room with the same group of kids all day, while different teachers rotate to teach classes in their room. This highly contrasts with my school in America, because we are always in a frenzy to scramble to our next class in only five minutes, which we have to repeat for seven bells. In addition, I want to let my host buddies and host school know that I am so grateful for their friendliness and enthusiasm towards me. Hopefully in the future you all can come to my school and I will show you what life in an American school is like.