Calling Greater Cincinnati Student Performers!
Empowering young people to pursue their passions, to use their creative skills and to bring out their strengths is one of the greatest gifts we can pass along.
The Cincinnati Arts Association is doing just that with the region's largest solo arts competition for students – the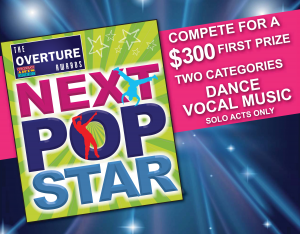 Overture Awards Program. This year it is initiating a new opportunity for Tri-State teens in grades 9 to 12.
The Next Pop Star Competition is designed for singers and dancers who perform popular music and dance.  Most of them will not have studied privately.  It will offer a chance for them to compete with others who share their enjoyment of these art forms.  Applications from students who have competed in the Overture Award Program in the past will not be accepted.
25 dancers and 25 vocal music students will be allowed to compete on a first-come first-served basis for no longer than five minutes.  There is an application that must be filled out but no application fee.  The application can be found at http://www.cincinnatiarts.org/Overture_Awards
Two winners, one from each discipline, will receive a $300 prize. The event will be Saturday, June 2, 2012 at The Aronoff Center from 9:00 a.m.to 1:00 p.m.  Students will receive a letter with a specific time at which they should report.
The Arts Association will provide a keyboard and a CD player for students' use and they can bring an accompanist.
Guidelines for both disciplines can be found on our website, cincinnatiarts.org/overture_awards.  Click on the Next Pop Star link.
Please call Carolyn Phillips with any questions at 513-977-4168 or send an e-mail to cphillips@cincinnatiarts.org.
A word about competition from the Cincinnati Arts' Association:
Successful working artists agree that self-discipline, hard work, determination, and one's ability to deal positively with criticism are the best indicators for success in the arts. Many brilliant high school performers have gone on to lead very traditional lives. Many people whose talents went completely unrecognized in high school have gone on to have brilliant careers in the arts.
This year's Overture Awards will provide just one of many occasions in which a young artist's creative efforts will be judged. A realistic picture of how a competition works and a healthy attitude about winning and losing will help keep stress to a minimum and allow contestants to keep the competition in good perspective so that it can be a useful learning experience.