Cincinnati Reds Urban Youth Academy Has Grand Opening
I remember several years ago visiting the Reds Rookie Success League when I was working with the YMCA of Greater Cincinnati.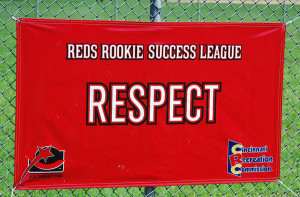 The Cincinnati Reds Community Fund organizes these free coed camps each summer to teach the fundamentals of the sport through a character based curriculum – and campers even get to meet a few local professional players. What a wonderful opportunity for so many children who otherwise would not be able to afford such a fun camp.
Since its inception in 2001, the Cincinnati Reds Community Fund has been dedicated to improving the lives of youth through its baseball-themed outreach efforts. The Reds Rookie Success League is just one example.
Last week, local youth were given a whole new opportunity to build success when the Major League Baseball, Cincinnati Reds, and Procter & Gamble unveiled the new Urban Youth Academy, a four field facility where Cincinnati children and youth can play baseball and softball, while receiving guidance to gain tools that will help them succeed not just on the playing field, but in the classroom…and in life.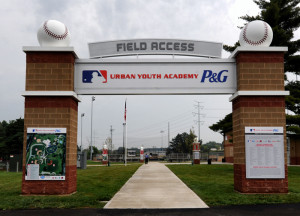 The $7 million Cincinnati Academy is the fourth in the MLB and it is the first one in the Midwest. It has four fields, one of which even has a press box. Additionally it has a field house complete with a turf field and indoor batting cages and pitching tunnels. There are also classrooms where students can receive free tutoring while they wait to play.
Joe Morgan and Frank Robinson, stars of Cincinnati's past, were among those on hand for the unveiling.
"It came out better than anyone could've expected," said Frank, whose current role is as MLB's executive vice president of baseball development. "You have your vision of what you'd like to see and what it will look like when it's finished. But I didn't have this vision. And I don't think anyone else did. This is a great facility, and we're just glad to be a part of it. We will continue to work with the Reds to keep it up and support the kids. They are the future."
Also on hand was a family very special to me. I grew up next door to Gerry and Marion Gendell and their seven kids (Carin, Danna, Adrian, Jeff, David, Marc and Brad) and have so many wonderful memories of those years. They are such a kind and generous family. One of the ballfields at the Academy is a gift from the Gendell Family Foundation and was dedicated to Gerry and Marion –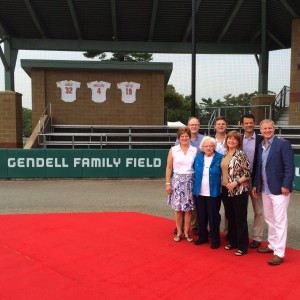 loving parents who gave so much to our great city.
Gerry was commissioned as a First Lieutenant by the US Army in 1952 after graduating NY University. Following 3 years of military service during the Korean War, he joined P&G where he spent 37 years in management positions. In the last 10 years he served as the company's chief public affairs officer and also served as president and trustee of the P&G Fund. Among other achievements, he launched Pringles brand and expanded P&G's charitable activities. He was vice chairman of the Greater Cincinnati Chamber of Commerce, member of the Board of Overseers at HUC, a board member and supporter of several other organizations. Marion earned her bachelor's degree at age 50. She served in volunteer roles for various organizations.