Cincinnati Students Collecting Art Supplies for Nicaragua
Written by Good Things Going Around intern, Andrea Francisco, a senior at Indian Hill High School
Recently, at my school, Indian Hill High School, I heard of an art supply drive for an impoverished community in Managua, Nicaragua. There, in the Batahola Community Center, students of all ages are learning skills that relate to basic and international cooking, natural medicine, sewing, cashiering, visual arts, how to speak english, and many more areas. This amazing community center was started by Friar Angel Torrellas and Sister Margie Navarro in the early 2000s and has grown into a wonderful nonprofit for the Batahola community.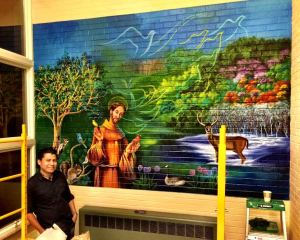 Last spring, Gerardo Arias, an art teacher and amazing artist from the Batahola Community Center, came to McNicholas High School to paint a beautiful mural at the school. Meanwhile, Kimberly Engle, who has a son at McNicholas High School, was asked to host Gerardo while he painted the mural. Inspired by Gerardo, Kimberly set out to help bring art supplies to his students by holding an art supply drive at Indian Hill High School, where she teaches spanish. In this way, she has helped these Nicaraguan students, empowering them to grow, learn, and thrive through art.
Kimberly says of Gerardo, "He is so nice…and very passionate about helping the kids. He is very passionate about them taking his class as a sort of inspiration or therapy for their situation."
Sister Margie Navarro, who helped found the community center, noticed that even from an early age Gerardo possessed a unique artistic gift. She became his mentor and nurtured his gift, ultimately leading Gerardo to college where he studied art. Today, Gerardo teaches art at the Batahola Community Center and is dedicated to teaching his students.  Gerardo hopes someday to raise enough money to buy a document projector, which would display him as he is drawing on a projector screen, thus enriching his art classes.
If you want to donate, stop by Indian Hill High School, McNicholas, or St. Ursula High School to drop off art supplies. Any kind of art supply is welcomed, but acrylic paint is the most needed. Also, you can visit the Friends of Batola website, which is a group that works toward empowering the people of Nicaragua: