Cincinnati Teens Raised Money For Tanzanian Students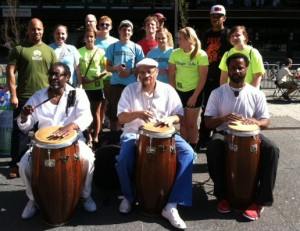 With support from the Mayerson Foundation High School Service-Learning Program, students from nine area Cincinnati high schools helped raise awareness about a child's walk to school in Tanzania by walking through our downtown.
Teens from Aiken High School, Arlington Heights Academy, Finneytown High School, Gamble Montessori, Lockland High School, McAuley High School, Mt. Healthy High School, Ursuline Academy, and Wyoming High School/Wyoming Youth Services researched the needs in Tanzania through Village Life Outreach Project – a Cincinnati-based non-profit organization that partners with Tanzanian villages to design and implement sustainable projects to fight poverty, provide access to clean water and health care, and improve educational outcomes.
In rural Tanzania, East Africa, students walk nearly six miles to school, which can take up to three hours one way.
It was in 2010, when Wyoming and Finneytown High School students and staff supported the children in Tanzania by creating the "Walk in My Shoes" Challenge – a 5.5 mile walk in Cincinnati from Salway Park to Fountain Square. It was an effort that quickly spread.
Proceeds from the Walk help fund the Village Life Outreach Project Ugi Nutrition Program in Tanzanian schools.  Ugi is a nutritious meal that feeds  1,200 Tanzanian students who walk to school per day and would otherwise go malnourished.  The total cost to feed all  1,200 primary school children per year equals a daily cost of $0.04 per child.