CINspirational People: Mike Moroski
We have many reasons to be proud of living in Greater Cincinnati. Among us we have so many neighbors who care, destinations to visit, workplaces achieving great significance, educational institutions helping to raise future leaders, and organizations whose efforts are making a positive impact on lives and neighborhoods.
Yet, did you know, on average, there are an estimated 7,000 children in our region each year who know what it is like to be called 'homeless'?
That is a really tough statistic to grasp.
Not only are these young, impressionable minds working through whatever intense circumstance they are facing with or without their family, necessities such as food, adequate clothing, supplies, transportation, mental preparedness to focus, and even positive adult role models are more often than not lacking too.
Good for them, and for our community, that a unique (and wonderful) nonprofit organization charged with helping these young people to grow. UpSpring (formerly Faces Without Places) is our region's only nonprofit that exclusively serves homeless youth and children, providing them with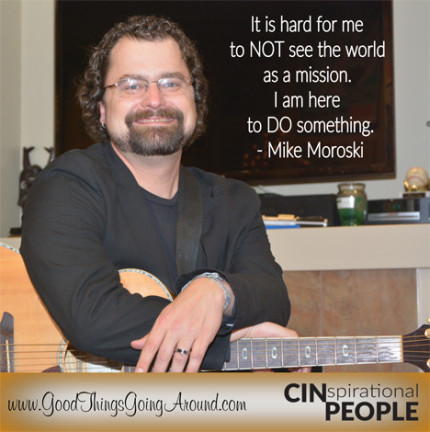 consistency to achieve educational success in and out of the classroom. Each year UpSpring empowers about 3,000 children who are experiencing homelessness in Greater Cincinnati.
And, at its helm is a leader so driven by a passion to change the world – or at least the region – that his drive to stand up for what he believes in got him fired and landed him in national news. (Mike Moroski was terminated from his role as dean of student life at Purcell Marian high School for writing a post on his personal blog in support of same-sex marriage.) His deep rooted capacity to be an activist for those needing a voice found him embedded in the community of Over-the-Rhine as a rehabber, volunteer, friend and investor; and took him on a journey of running for Cincinnati City Council. Ultimately his path led him to UpSpring.
To meet Mike is to meet an immediate connection. On his website, he wrote, "Without relationships, nothing worthwhile or long-lasting can be accomplished."
Mike also shared, "I've learned that picking yourself up off the ground when you're down is the only way to succeed in this life.  I have the relationships to be able to do this.  Too many in our City do not.  I have received numerous accolades for taking a stand in February and losing my job.  My ability to take that stand is a blessing and one for which I am truly grateful.  My ability to fight for those without a voice is a gift; a gift that I take very seriously.  You see, those in poverty could not take the same stand that I took in February.  They could not afford to lose their job & their health insurance.  Thanks to my family (my safety net), I was able to take that stand – a stand I would have wanted to take even if I had not been in a position to do so, but one that, ultimately, I would not have been able to take.   I've re-learned why I am running for Council this year – I am running so that those who have long felt their power stripped away from them can begin making moves to regain some of that power.  When one is blessed with the ability to fight for what's right, one should.  I feel an overwhelming calling to do just that – and I have for many, many years."
I have so much admiration and respect for Mike. He is a role model to me in so many ways. Please spend a few minutes to learn a little bit more about him.
Lisa: From where do you get your passion?
Mike: I think my passion definitely comes from a place of empathy.  I grew up with every kind of opportunity I could ever want but by the time I was in high school, I realized how fortunate I was. My parents did not grow up with those same resources. Their families were poor, but they often didn't realize it.
As I grew, what was instilled in me was a serious distaste for bullies. I'll never forget fighting the kids who made fun of a friend who was different.
The way I see it, the systems in place today that promote the statistics are structural bullying or structural child abuse. These kids are not unequal but never given the opportunity to be equal. There is a difference.
Lisa: Tell us about someone who has influenced you and your life.
Mike: Mike Rogers, definitely. Mike had experienced homelessness and is a graduate of the Men's Recovery Program of the Drop Inn Center. He has been like a brother to me. I was in my 20s when we met and I was not very confident. Mike is the first person to have told me not to apologize for my thoughts, and that they were good and valid. I always had a distaste for poverty and Mike introduced me to his community in Over-the-Rhine that has been pushed down. He worked with me on a rehab project and one day we began talking about the fact there was no place for people in his neighborhood to just hang out. Before I knew it, we were talking about opening this coffee shop. We called it Choices Café.
(Note: Choices Café was more than a coffee shop. It was a gathering place for people of different backgrounds with a shared outlook. Partnering with 3CDC, the Drop Inn Center, Greater Cincinnati Coalition for the Homeless, and others, it embodied the motto, 'We are one.')
Lisa: What is the best advice you have received?
Mike: My father was always a salesman and he used to tell me that in everything I do, I am selling. I think about that in my work as an advocate and activist, and how education is a sales process. Many people have not had my life experiences. Without having had the opportunity to get to know a Mike Rogers or have homeless friends, they will not be able to relate the way I do and they may have already formed inaccurate associations. Every day I am selling the cause of homelessness, the reality of life for those who are impacted by it, and the need for support.
Another piece of advice that has stuck with me came from one of my professors. He told us, 'your students will likely never remember anything you taught them but they will always remember who you were.' That applies to most everything and everyone.
Lisa: You also talk about learning the difference between optimism and hope. Can you explain?
Mike: I learned that from someone who I never met, Vaclav Havel, who led the velvet revolution in the Czech Republic from his prison cell. In one of his letters, he wrote about how you need to clearly understand that difference if you are to fight injustice. OPTIMISM, he taught me, means you believe something will work. However, if you do your work filled with HOPE because you know deep down that it is the right thing to do no matter the outcome, only then is your work is sustainable. Reading that really changed how I do what I do.
Lisa: What is your hope when it comes to leading Upspring into the future?


Mike: I want to see the numbers of homelessness of young people go down. Organizationally speaking, I want Upspring to be able to provide more summer programs and serve more kids. This coming summer we will serve 210 students. I would also like to see what our role can be in early education. To expand, we will need more resources and more staff. It is going to take massive efforts and we cannot do this alone.
Lisa: What are some things on your own gratitude list?
Mike: Definitely my wife, Katie, all my friends and family, my pets and my music. All of them are what keep me level. This work is very intense, and it is not always easy turning it off. Hanging out with Katie and playing my guitar keeps me sane. I tell others they need to identify what that is for them because if you have the juice, your whole life can quickly be consumed. It is hard for me to NOT see the world as a mission. I am here to DO something.
Lisa: What other advice do you give people?
Mike: You've got to pursue your dreams, and also know that if you don't change the world, that you have not failed. You have got to be patient. That is something I have to work on every day.
It is something I think a lot of us have to work on every day too. Yet, one more lesson I have come to learn from Mike.
#GoodThingsCincy    #CINspiration

One Response to CINspirational People: Mike Moroski