Community Donated Over 240 Backpacks To Beech Acres Parenting Center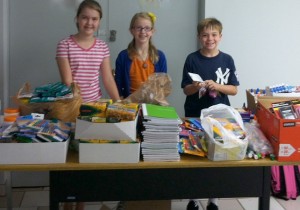 Each year, Beech Acres Parenting Center, a non-profit dedicated to strengthening families for children, works with more than 17,000 children and parents throughout Hamilton, Clermont, Butler and Warren Counties to become better equipped to raise capable, caring, contributing children. For those who are working to overcome financial challenges, this work is that much more difficult.
Beech Acres' Beech Reach Projects consists of three projects to help in this effort. Fill-a-Backpack provides their kids with the tools they'll need to succeed in the classroom. This year, caring neighbors and friends generously donated more than 240 backpacks filled with school supplies! Donations are accepted year-round for the new School Supply Store, to have supplies readily available as families need them. Adopt-a-Family will kick off by November 1st to provide gifts for the holidays. For more information on how to get involved, please visit www.BeechAcres.org/BeechReach or call (513) 231-6630.