From Cambray Smith: Graduation Brings Reflection
Cambray Smith is a senior at Wyoming High School (soon to be graduate) in Cincinnati and is interning with Good Things Going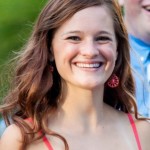 Around through the summer. Please visit back as this tendor, very talented student, leader and philanthropist shares her life lessons in blog posts.  To learn more about Cambray, please visit her introduction page and you can find her posts by doing a blog search or clicking on the category with her name.
Our lives are full of seasons, each unique and full of lessons. I've entered into a bittersweet time of reflections and goodbyes as I graduate from Wyoming High School, and there are most definitely ups and downs with leaving the school that I've loved.
There is something powerful about learning within a community. Irrevocably intertwined with the expansion of both mind and character is an opportunity for mistakes. We constantly take risks at school, and this builds relationships that rest on vulnerability and eventual improvement.   Within the classroom, at the sports fields, or on stage, there are so many moments where students are challenged to step out of their comfort zones, stand up for others, or make some other choice that will define their emerging characters.
High school is often seen as a rather selfish time in life; stereotypical teenagers do what they want to do with little regard for their parents or teachers. They don't care about their classes, and their future is grey and hazy. I've seen all of these statements and their opposites to be true. What I've learned is that teenagers are selfish because they're trying to understand themselves so that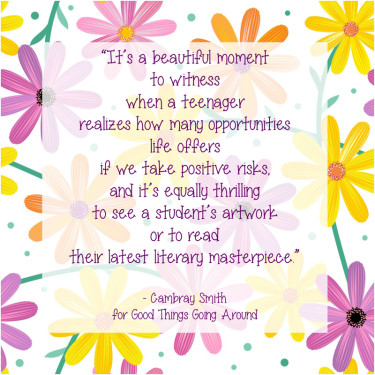 they can eventually stay true to who they are. They try to figure out what motivates them, and in doing so, they often place their own needs first with little regard for others. Once they gain some security in knowing why they operate the way they do, it's much easier for young adults to then begin to see other people and ways that they can give back in a clearer light. For some, this does happen within the four years of high school; for others, it takes much longer.
Why I bring all of this up (despite most Good Things Going Around readers not being high schoolers anymore) is because this time of life is special. I know that there's something untouchable about my high school memories, and the way that I've heard so many other adults refer to this time makes me think that perhaps this is a universal feeling. This is the time of life for big mistakes (sometimes really painful ones), but it's also the time for the exploration of new passions. It's a beautiful moment to witness when a teenager realizes how many opportunities life offers if we take positive risks, and it's equally thrilling to see a student's artwork or to read their latest literary masterpiece.
I'm going to miss the beige-colored walls of Wyoming, and I'm going to want to tell my teachers so many new things that I'm learning in college. Mostly I'm going to want to whisper and giggle to the classmates that I've been going to school with since kindergarten. I feel grateful for the wonderful experience I've had for the last four years, and I hope that all graduates can remember their moments of self-discovery and awe at new horizons explored in high school.