From Cambray Smith: Lessons Learned From A Summer Job
Cambray Smith is a senior at Wyoming High School (soon to be graduate) in Cincinnati and is interning with Good Things Going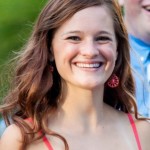 Around through the summer. Please visit back as this tendor, very talented student, leader and philanthropist shares her life lessons in blog posts.  To learn more about Cambray, please visit her introduction page and you can find her posts by doing a blog search or clicking on the category with her name.
This summer, I've worked as a nanny for two girls (ages 7 and 3). I typically work 10-11 hours a day, and needless to say, I'm pretty exhausted when I make it home. Despite this not being an "official job" (AKA I get to wear a t-shirt and Chacos every day), I've learned some long-lasting lessons that I'm not going to forget any time soon.
1. Feed the kids. This might sound rather obvious, but if you watch kids who insist they're not hungry (usually because they're caught up in their imaginary play worlds), chances are, they're wrong. The girls I watch always try to push off eating, but around mealtimes, they become rather moody. Even if they don't realize it, their stomachs are often the grumpy ones, and sometimes it takes an outsider to notice that. Chopping up some vegetables, making some PB&J, and even giving them a little chocolate kiss are all great ways to keep spirits up. Same goes for the babysitter, even though I'd like to brag that I'm in quite strong communication with my stomach and I most definitely know when I'm hungry 🙂
2. Routine is good. Especially during the summer, it's easy to want to lie around all day in pajamas and never leave the house. Getting some fresh air, going to the library, or heading to the pool at consistent times throughout the day are all easy ideas to get moving and to pace out the summer. I find that this can apply regardless of age, and that some sort of plan is always good to have. Setting aside reading time (with a cool timer, of course), writing time, or even coloring time are all ways to keep kids busy and nannies sane with long days.
3. Being a mom is hard work. I'm nowhere close to having kids, nor does nannying come close to the role a mom plays, but wow is it weird to love little people as much as I love these sweet girls! I so enjoy hearing the hilarious things these kids say ("Stop the wedding!" is a favorite of the 3-year-old when playing with her Barbies). Laughing and tickling fights are so much fun! And yet it's quite easy to get frustrated when kids don't listen, clean up, or understand that you're actually trying to help them. There are some moments that feel like hours when I just need a moment to think by myself, and yet there are others that I hope the day never ends. Since I've known these girls for over two years, it's been so strange to see them grow up a bit, and I can't imagine what it feels like in a parent's eyes.
I'm so thankful for this job and I'm learning so much about myself and about caring for others. Wish me luck in thinking of fun ways to entertain little people for lots of hours every day!