Harlem Globetrotter Alumni Helping Cincinnati Youth
Meet my newest Good Things Pledge champions….Albert Gordon, Larry Coleman, Michael Douglas, and Tyron Hollywood Brown (pictured with me).
I met them at FOX19 and these Harlem Globetrotters alumni who are now part of the Harlem Legends Basketball Entertainers are all about doing good. They are in Cincinnati to play a basketball game Thursday night at Princeton High School benefiting the Princeton High School athletic department.  Funds raised will help ensure students who want to play  and can benefit from sports will be able to have that opportunity.  Who will their team be up against? Community and business leaders, and educators – all of whom share a common passion for wanting to help young people succeed. The game will begin at 6 p.m. at Princeton High School (11080 Chester Rd; Cincinnati, Ohio 45246). Tickets are $10 in advance or $13 at the door. For more information, please call 513-864-1500.
Are you a Good Things Pledge champion? Sure you are. We all are because we all have within ourselves the power to do and nurture good things. If you visit my Pledge page on this blog and add your name, I'll send you a certificate.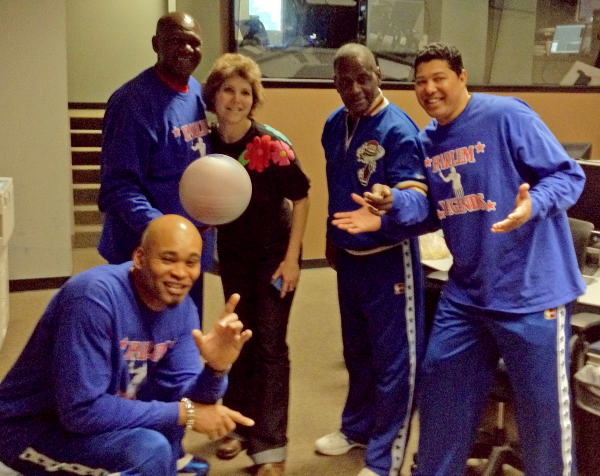 About the Harlem Legends
The Harlem Legends Basketball Entertainers are all Harlem Globetrotters alumni who want to use their talents to bring out the best in others, especially young people.
Legend Michael Douglas began his youth foundation in 1991 to provide positive and educational activities for communities around the globe. The Michael Douglas Youth Foundation brings together motivational speakers, NBA stars, Harlem Legends members and entertainers to raise money for nonprofits and teach youth how to succeed in the game of life.
Chosen as an advocate for the President's Fitness Challenge, the Harlem Legends will take the lead in being role models for youth and society through a variety of activities including Shoot for the Stars basketball and physical fitness camps, celebrity basketball shows and motivational programs.
 "Kids are our future. They look up to professional athletes and so we want to be the best possible role models we can be. We're all about encouraging them to follow their dreams to ensure a bright future for themselves," Michael told me, "but we're not just helping kids by doing this, we're helping…period."