Indian Hill High School Student Journeys To Taiwan
Andrea Francisco lives in Cincinnati and is a soon-to-be-senior at Indian Hill High School. She will also be interning with me this fall to share her thoughts through my blog. I will have more information about her later, but wanted to share this letter she had written about a journey she is taking this summer. What a fabulous, life changing event for her!
Hello,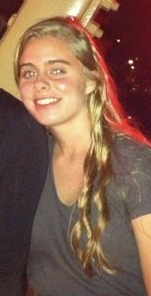 My name is Andrea Francisco, and I am a soon-to-be senior at Indian Hill High School who is about to go on an exchange trip to Taiwan. I'm very excited to explore the world outside my small suburban bubble and see what the lives of people halfway around the world are like. In just a few days, thirty students from schools around Cincinnati and I will embark on a journey to the island of Taiwan, which is just off the coast of China. More specifically, we will be going to New Taipei City, Taiwan, which is a part of the Cincinnati USA Sister City Association. A few other Sister Cities to Cincinnati include Nancy in France and Kharkiv in Ukraine.
Over the course of two weeks, we hope to make lasting friendships and memories with the people of Taiwan and especially our host families. All thirty-one of us are assigned our own host family, who will show us around Taiwan and bring us to their local school for a few days, as the Taiwanese students are still in school. Also, we will have opportunities to visit a few of the many interesting things to see in Taiwan, including the TAChou Yacht Company, Everlight Electronics, Pingxi Old Street, Fort Zeelandia, Eternal Golden Castle, Chikan Towers, Taichung Fengjia Night Market, and many more, which are also hard to pronounce. Although I have taken Mandarin Chinese, the official language of Taiwan, for three consecutive years at school, I still struggle to read and speak this rich language correctly. Thankfully, the Taiwanese family I am staying with can speak and write much more English than I am able to with Chinese, so we will be able to communicate. Despite the language barrier, I hope to enjoy this trip wholeheartedly and embrace the many cultural differences that I may come across.
After months of preparation, all that separates our group of thirty-one students and twelve chaperones from New Taipei City are a pair of three hour-long flights and a lengthy thirteen hour-long flight to Taiwan. We will be going over the Pacific Ocean, which may be scary for the majority of the students going on the trip, as less than five of us have flown internationally and nearly ten of us have never flown west of the Mississippi. Overall, I am very excited to see New Taipei City and create lasting memories with my host family and the students going on this trip!
Andrea

One Response to Indian Hill High School Student Journeys To Taiwan