Please Meet My New Intern
I am thrilled to introduce my new intern, Brittney Bash, who lives in New Richmond, Ohio and is a junior at Cincinnati Country Day School. As soon as I met her, I knew she would be a great fit for Good Things Going Around. She is someone who, like me, gets a lot of joy out of seeing others smile. She loves to be involved in her school and her community, and clearly learns about life from her experiences. And she is so enthusiastic about being a part of this blog. I am looking forward to getting to know her and her contributions.
Please learn more about Brittney from an introduction that she wrote about herself.
Brittney Bash, In Her Own Words
Hi!
It really is a privilege to work with Lisa and I can't wait to help her promote her blog, Good Things Going Around.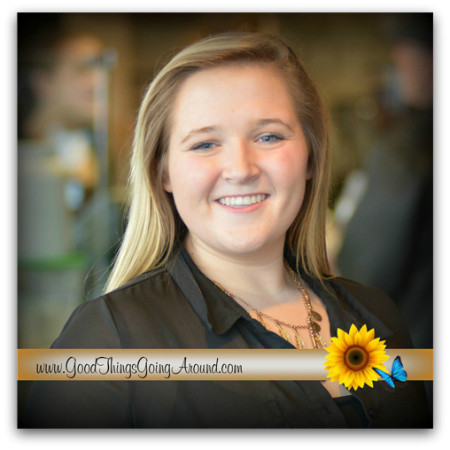 I grew up in a big family in a small town. I have two older brothers, a twin sister, a little sister, three nephews, and a niece.  Throughout the last couple of years my home has also been the hotspot for British Soccer trainers looking for a place to stay.  Their presence in the family has not only brought tons of giggles and memories but also opened many cultural gateways.
When I was young my aunt hosted many exchange students, and at a very young age I realized my passion for travel and interest in the diversity of different cultures. To date, I've visited England, Mexico, The Dominic Republic, Holland, Belgium, and France. I hope that my list will multiply throughout my life.
I enjoy playing sports and the sense of fulfillment and accomplishment that comes along with the experience. I've done cheerleading, swimming, gymnastics, soccer, lacrosse, and track. Sports have given me many valuable skills such as the ability to work as a team, confidence, communication skills, and they have also helped enhanced my leadership capabilities. Outside of sports I also enjoy singing in my school's A Capella Club, and writing for the school newspaper, The Scroll. I'll admit, one of my weaknesses is my impulsiveness to try new things. In addition to singing and writing I've also helped out with the Filmmaking Club and Science Olympiad.
After a busy week I find time to enjoy hobbies such as journaling, meeting with my youth group, socializing, and spending time with my family. I love spreading my sense of humor and joy to others and I am an active member of The Council of Disruptive Thinkers where we discus current topics in Cincinnati in attempt to find ways to help others in need.
Although I may be young, I hope that my many experiences, my open mind, and my optimistic persona bring a fresh perspective and refreshing insight to Good Things Going Around readers.
Brittney
#GoodThingsCincy

One Response to Please Meet My New Intern