Summit Elementary Students Are Caring Philanthropists
What a pleasure it was to accompany Patrick Nugent, vice president of development for Beech Acres Parenting Center, when Anderson Township students at Summit Elementary School presented him with a check. Such eager fundraisers! I couldn't help but capture them on video too. Below is the write-up I did for Beech Acres and below that is a video that you've got to watch.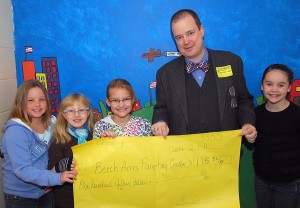 Pictured: Tori Madden, Jessie Headley, Payton Egan, Patrick Nugent and Lauren Arnold
Five young enterprising philanthropists at Summit Elementary School decided one day they wanted to pool their talents to help a worthy cause. Together, fourth graders Payton Egan, Ali Madden, Lauren Arnold, Tori Madden and Jessie Headley approached their school counselor and crafted a written proposal. Their counselor connected them with school librarian Tonya Swisshelm, who had already decided to participate in the One for Books program in order to raise money for a chosen cause. This program allows schools to accept donations and use them to their choosing while Scholastic matches the amount collected and purchases books for needy children. It was a great fit to have the girls promote this program among students.
In that moment, Payton, Ali, Lauren, Tori and Jessie became organizers and promoters. Their cause was Beech Acres Parenting Center, an Anderson-based nonprofit that helps to strengthen families for children. The girls made signs that they posted around school and gave daily morning announcements to all of their peers. During the book fair, they were responsible for counting the money and posting the names of all of their donors on a hallway bulletin board.
It was a big job with a big lesson in giving back. On December 1, the Summit Elementary philanthropists handed a check to Beech Acres Vice President of Development, Patrick Nugent, for $115.50. The girls kept thanking Patrick for accepting the gift, proving the key lesson that it feels great to give!