The Children's Home Sets Kids Up For Success With Theatre
Last week my mom and I had such a treat. We were invited to The Children's Home Lower School theatre production of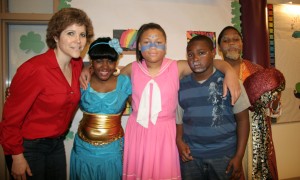 Aladdin. It was so special for us. This wasn't just any theatre production at any school, this was a way The Children's Home has found to get kids who learn differently or who traditionally have struggled in the classroom to be excited about learning…in essence, setting these young people with so much potential up for success.
Below is a write-up I found on The Children's Home website following the performance.
Over 30 students participated in the Lower School Theatre Program's production of Aladdin for an audience of classmates, staff, board members and donors. The Lower School serves children in grades K-8 who have behavioral or learning challenges that have prevented them from succeeding in a traditional classroom. Many of them have experienced abuse and neglect or other factors that have inhibited their healthy development.
Last year, one student in particular had a very small role in the school play and he struggled to maintain his behavior and manage his emotions.
This year,  he told Director Sharon Walterman that he wanted a bigger role "I told him that we needed to be able to count on him to maintain good behavior, because kids who take on bigger roles are harder to replace if they slip up and lose the privilege of participating in the play," says Walterman. "He looked me in the eye and said, 'You can count on me this year. This is what I want to do,' and he's done an amazing job," says Walterman. He's back on track and the theatre program is helping.
The Lower School started the therapeutic theatre program in 2006 to enhance student's social skills, self-esteem, and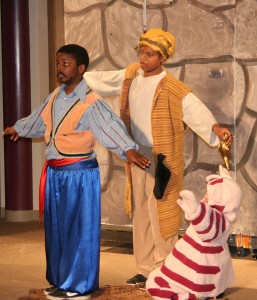 appreciation of the arts.  Students are involved in many aspects of the play, including learning to use the spotlight and helping with set design and painting. Several students also act as the stage crew, and their classmates rely on them to set up props and move the set around as needed during the performance. The Children's Home is well equipped to help students learn to manage their behavior, and the Theatre program offers the perfect opportunity to practice. Children learn and develop their social skills, like how to accept feedback from the Director. Learning to accept feedback is one of the key pieces of the Teaching Family Model, the evidence-based behavior modification practice that has been implemented campus-wide at The Children's Home.