University of Cincinnati Student Raising Money Through Art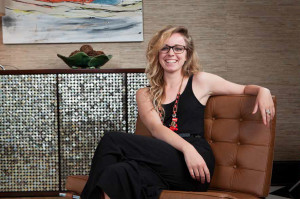 Lizzi Egbers is in her final year at the University of Cincinnati DAAP for Interior Design; and later this summer she is heading to Casablanca, Chile with Habitat for Humanity's Global Village Program. She is looking forward to helping build homes for families of children with disabilities so that they can return from the hospital to fully accessible homes.
"I love going to design school and I think it's an amazing profession to bring beauty to the world, but to me that's two-fold between design and service.  I chose to partake in a Habitat for Humanity Global trip because as an interior designer you learn how important the space you live is and how much it affects you.  Being able to create a place that can be called home for a family that has already been through so many hardships is really uplifting to me," she wrote me.
Here is how you can help. To raise money for her trip, Lizzi has asked 29 talented people to create a piece of art based on a word she gave them. All of the words collectively create a poem that has inspired Lizzi's thoughts about service. The art is being sold in a silent auction at a show June 18 from 6 to 9 pm at Rhinegeist Brewery (1910 Elm St) in Cincinnati's Over-the-Rhine.