4C for Children
Today's the day! Cincinnati nonprofit 4C for Children needs our vote to win a brand new Toyota Prius.
Serving 33 counties, 4C's mission is to improve the quality, effectiveness and accessibility of early childhood education and care in the region so every child has a positive experience and a foundation for success in school and life. Some 170,000 children benefit each year from its services to their families and child care providers. That is a lot of kids who are growing to be capable, caring and contributing adults.
As you can imagine, with such a large service region and such vitally important work, dedicated staff log thousands of miles every year visiting child care centers and family child care homes. 4C staff also provide on-site training as an alternative to the more than 1,400 face-to-face workshops and classes offered. Additionally, staff participate in outreach events.
We all want to see children thrive. With so many pressures and challenges on families these days, the work of organizations like 4C is that much more important.
Your one vote can make a huge impact. It is simple to do.
To vote
Simply click on this link for the Toyota 100 Cars for Good on Facebook and place your vote. BUT YOU MUST DO IT TODAY!
It is easy to take for granted our ability to hop in our car to travel where ever we want to go. For nonprofits who are working day in and day out to make meaningful impact, that transportation isn't always easy. Having an organization vehicle can be costly.
Cincinnati is fortunate that we have so many outstanding nonprofits who have stood out above the crowd in vying to win a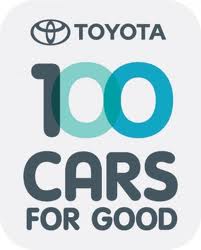 FREE Toyota in the national Toyota 100 Cars for Good project. Already our Cincinnati Zoo and Recycled Doggies have won.
Some others who are finalists still need your votes. Each day only 5 finalists are featured and the one that gets the most Facebook votes wins a vehicle of their choice. Peggy Kreimer of Stepping Stones had this to say about what their win would mean to them…
 If we win a wheelchair accessible van, it will transform our adult services program for people who use wheelchairs. Our last accessible van was 17 years old and is no longer road-worthy. When the adult participants go out to restaurants, to the Butterfly show, to sports events and picnics, the people who use wheelchairs just wave good-by. And when the group returns, they listen to the excited tales of adventures and fun that they, once again, missed. Your vote can get them into the community again.
Here is a list of Cincinnati area organizations who are finalists, and dates that you can vote for them.
Easter Seals WRC, July 12
Stepping Stones, July 14
Creek Road Baptist Church in Sharonville, Aug. 7
4C for Children, Aug. 9
Cincysmiles Foundation, Aug. 21
To vote, go to www.100carsforgood.com. You must have a Facebook account to vote and can only vote once per day.
Let's support our local charities and spread the word!