act of kindness
Five year old Aiden Thacker has been attending The Kinder Garden School in West Chester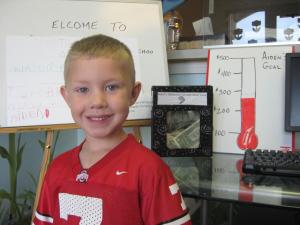 since he was a toddler, and director Trudi Simpson told me he has always been an empathetic little boy.  Still, what a special surprise when he walked into her office out of the blue one day recently and told her he wanted to raise money for the families who lost everything in the Oklahoma tornado.
"What could I say? Of course I wanted to support him," Trudi said. "I suggested that he make a sign and write a letter to the KGS families and he responded immediately. He got his whole class involved."
This is what his note read: "My name is Aiden. I want to help all the people of the tornado. They need food, clothes, toys and money for their homes. So, please help."
Aiden's goal is to raise $500 to donate to Matthew 25 Ministries which will go directly to aid the victims of the May 20 tornado. And he has already exceeded that goal with the help of family, neighbors and classmates.
The Kinder Garden School will hold a ceremony so Aiden can present the money to a representative of Matthew 25 Ministries on June 7.
"We are all so proud of Aiden and his philanthropic spirit," Trudi said. "He is such a loving boy and for him to be so enthusiastic about helping others shows just what a future leader looks like."