ArtsFwd Business Unusual Challenge
The Kennedy Heights Arts Center is one of 14 semi-finalists in the ArtsFwd Business Unusual Challenge. They are the ONLY Cincinnati organization from a national pool of applicants – and if they win, it could earn them a $35,000 innovation grant.
How can you help? Vote for them once a day through May 31, 2013 at this link.
About the Kennedy Heights Arts Center
Kennedy Heights Arts Center strives to be the anchor of an increasingly vibrant, diverse, inclusive and creative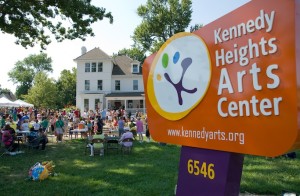 community. It serves more than 3,500 people annually with its rotating art exhibitions, arts education programs for youth and adults, outreach programs in public schools and libraries, and community events from art festivals to poetry readings to concerts on the lawn. The majority of its programming is free and its "pay what you can" policy for art classes ensures that everyone can participate. Its inclusive, welcoming environment attracts many folks who might not venture downtown or to traditional arts institutions. As a community-based art center, KHAC has a special focus on Kennedy Heights and the surrounding neighborhoods.
Why is the funding important?
"In the past, we have assumed that we could provide free programming for all and support our total operating expenses through grants and contributions. Kennedy Heights Arts Center was very fortunate to receive substantial support from one individual donor in the early years of the organization, but that donor recently passed away. Our relationship with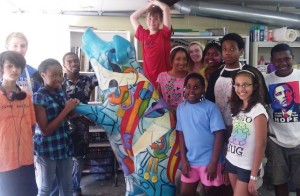 this "angel" has been both a blessing and a curse – it enabled us to grow quickly and develop a full range of programs, but caused a certain amount of reliance on one source of income which is not sustainable for the long-term."  ~ from the description on Arts Fwd