Blad Talent
This afternoon, I had the theme 'GREATNESS' going through my mind. And next thing I knew, I was talking to Michael Douglas. In case you don't know, Michael was a Harlem Globetrotters legend in his day. And today, he's a Harlem Legend. That's the name of the alumni group he got together (including NBA standouts) to travel the country, spreading messages of inspiration, instilling character values in kids, and raising money for good causes. It's all part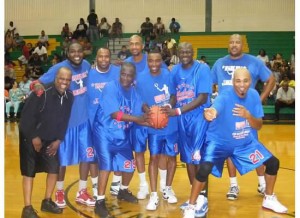 of Michael's foundation, the Michael Douglas Youth Foundation.
  "Kids are our future. They look up to professional athletes and so we want to be the best possible role models we can be. We're all about encouraging them to follow their dreams to ensure a bright future for themselves," Michael told me when I last talked to him, "but we're not just helping kids by doing this, we're helping…period."
They'll be coming to Cincinnati again Labor Day weekend to visit with families at Washington Park on Friday, August 31; and then to play a benefit game at Woodward High School on Saturday, September 1 at 5 p.m. (Please see details below.)
I couldn't help but ask Michael some questions about greatness, since I was in the mood.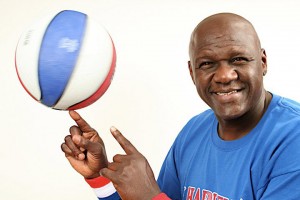 Lisa:  In your mind, what does it mean to be great?
Michael:  Greatness in my mind isn't something measured by 'things.' People's greatness has more to do with their deeds to humanity and their impact on others. If you have touched someone's life in a positive way, you have achieved greatness in some sense.
Lisa:  Who was your inspiration for greatness?
Michael:  I've had numerous role models in my life beginning with my parents. They were my first source of courage, teaching me to do right and strive to overcome obstacles. My dad is deceased but my mom still tells me 'I can.'
Lisa:  What are the key ingredients to success?
Michael:  There are three keys – you have to have an idea of what you want to do, then you have to believe in your heart that it can happen, and thirdly, you have to be willing to work as hard as you've ever worked in your life to go after that idea.
Lisa:  What was one of your great obstacles and how did you overcome it?
Michael:  I was 7 years old when I knew I was going to be a professional basketball player when I grew up. When I showed up for tryouts to be a Harlem Globetrotter, there were 1499 other men who had my same dream and only five of us would make it. But I had worked hard on my skills my whole life and had a positive attitude and I guess I had what they were looking for. It gave me the opportunity to travel to over 100 countries.
Lisa:  How do you want to be remembered?
Michael: I want people to feel they have achieved a different level in life through positive affirmations by being in contact with me. My Foundation work now is my passion and my way of giving back. I love bringing this type of entertainment to communities where people otherwise wouldn't have a chance to be with the Globetrotters. And I love motivating kids to achieve.
Blad Kids and The Harlem Legends Celebrity Basketball Show

September 1, 2012 – 5:00pm
Woodward High School
Cincinnati, OH

$10 General Admission
Children under 5- FREE
VIP tickets are also available for $25.00 -$40.00

A local team of police officers, firefighters, coaches, teachers, and community leaders will take on Michael and his Harlem Legends team all to raise money for nonprofit Blad Kids, which fosters personal growth and skill development in young people, using entertainment as its medium.

For Tickets and Sponsorship info contact:

Renee Jordon 513-827-7922
www.bladtalent.com