Blue Ash
What an unbelievable experience for these Ursuline Academy students – going to Paris! It was part of a pilot Academic Exchange Program with St. Josèph Lycèe in Reims. Seniors Jessie Ewen of Loveland and Brooke Kurkjian of Mason and juniors Julie Ivers of Symmes Township, Katie Polson of Mason, Zenab Saeed of Indian Hill, and Catherine Strietmann of Mount Lookout, were accompanied by Ursuline world languages teacher Lynda Hoffman-Jeep and guidance teacher Katy Zwolinski.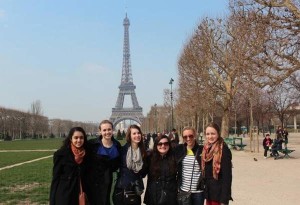 "The French Exchange Trip was an experience that truly changed my life. I learned that traveling abroad gives you a learning experience that you can never receive through a classroom or in a textbook. It is something totally unique that you cannot understand until you visit the country," Catherine Strietmann said.
The students spent time with their French host families, whose daughters are part of the pilot academic exchange program and visited Ursuline Academy this past spring. While in Reims they attended classes at St. Josèph Lycèe, and some of them even stayed in the school dorms. The Lycèe attracts two-thirds of its students from Paris and the surrounding countryside, and is a boarding school as well as a day school, Hoffman-Jeep said.
Ursuline will host another group of female students from St. Josèph's next spring.
The talents of Cincinnati artists and young students will be on display at an exhibit at University of Cincinnati Blue Ash College through the end of March.
The annual Festival in the Woods is open to the public. It runs through March 29 in Muntz Hall on the UC Blue Ash campus, 9555 Plainfield Road. (Monday – Friday, 10 a.m.to 8 p.m.; Saturday and Sunday, noon to 5 p.m.)
Started in 1989, Festival in the Woods features more than 1,500 original works of art this year.Several local and private schools will be represented. They include Loveland, Deer Park, Indian Hill, Loveland, Madeira, Mariemont and Sycamore.
Featured artists
• Marcie May: author of "The Adventures of Penny and Tubs," selling and signing books.
• Valerie Woebkenberg: author of "The Story the Little Christmas Tree Told," selling and signing books and she has notecards.
• Trudy Roesch: Watercolor artist-paints a variety of winter scenes, flowers, herbs, and will have pictures and cards for sale.
• Gary Overmann: a collector of children's' books especially those by Beatrix Potter, Tasha Tudor. He will sell books.
• John Kraimer: director of disability services, artist, musician.
Visitors are encouraged to support a project incorporating the love of art and reading. Through the Festival in the Woods event, UC Blue Ash is partnering with the national First Book organization to provide handmade bookmarks to give to children in need. The bookmarks will be distributed with their new books.
For more information about the Festival in the Woods, visit the UC Blue Ash website at www.ucblueash.edu/performingarts/festival/festival or call (513) 936-1573.