Brooklyn Dodgers
Today, at Greater American Ballpark and every other major league ballpark across the nation, in homes and businesses, in schools…and in movie theatres thousands will pay a tribute to a humanitarian, a father, a baseball legend, a hero.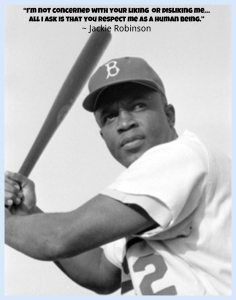 Sixty-six years ago, when the civil rights bill was but a distant dream, a young man with unbridled talent stepped onto the field wearing a Brooklyn Dodgers jersey and the number 42 embellished on his back.
That man was Jackie Robinson, a former varsity athlete lettered in four sports at UCLA and a former second lieutenant in the U.S. Army. He also, as we all know, happened to have been African American. And on that historic day in the office of a bold businessman, Jackie courageously stepped forward to change history books forever when he signed to become the first black athlete to play major league baseball.
All around him people were separated by the color of their skin – in schools, the military, hotels, restaurants, buses, and yes, even the entrances to ball parks. Cruel racial (and religious) antagonism ran deep.
Jackie and Brooklyn Dodgers President Branch Rickey knew if they were to be successful in integrating baseball; it had to be with dignity not fists.
Jackie:  "You want a player who doesn't have the guts to fight back?"
Branch: "No, I want a player who has the guts NOT to fight back."
"We win if we convince the world of two things – that you are a fine gentleman and a great baseball player," Branch told the new rookie.
Jackie's moral compass was tested as no man should ever have to be tested. Racial epithets pelted him on and off the field. Fellow Dodgers signed a petition to have him kicked off the team. He received death threats. The manager of the Philadelphia Phillies heckled him with the N-word for five unrelenting minutes (it may have been longer in real life). Even in Cincinnati's own Crosley Field, the stands erupted in boos and jeers as Jackie stepped onto the field.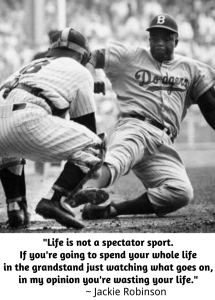 Through it all, he stood tall. Jackie proved to the world that he was a fine gentleman AND a great baseball player. And by Branch's definition – I'd say he resoundedly won.
In 1997, under the direction of Commissioner Bud Selig, Robinson's No. 42 was retired across all of Major League Baseball in an unprecedented tribute. However, today and every April 15, baseball players across the country will all be wearing his number in his memory and his honor for what he has given the game – and what he has given the world.
Stories like that of Jackie are so important for us to know and talk about. They are important lessons and reminders of what we as neighbors, friends, and co-workers must always remember. Our diversity is a gift that brings us different perspectives and opens our eyes to new opportunities. And the really beautiful thing is that, if you look deeper, you will find that we all share the most basic of needs – the need to be valued, included and loved.