Butler County mentor
Written by Greg, a volunteer mentor with Big Brothers Big Sisters of Butler County
I first met Cody in March of 2009. He was age 9 and I was 32. The Big Brothers Big Sisters of Butler County staff shared that the main reason Cody and his mom were looking for a "Big" was because they wanted a positive male role model in his life. From the beginning, our relationship was easy.
One early moment of importance came as we were driving back from a late-spring afternoon at the Cincinnati Zoo. I asked Cody what his favorite part of the day was. As a self-proclaimed penguin-fan, he told me it was, "…seeing the penguins." He asked me back & I truthfully answered, "Spending the day with you." The always talkative Cody was literally speechless. Better still, he had a huge smile on his face and he was genuinely proud. My words had struck a chord with Cody. He does not know it – but his smile struck right back.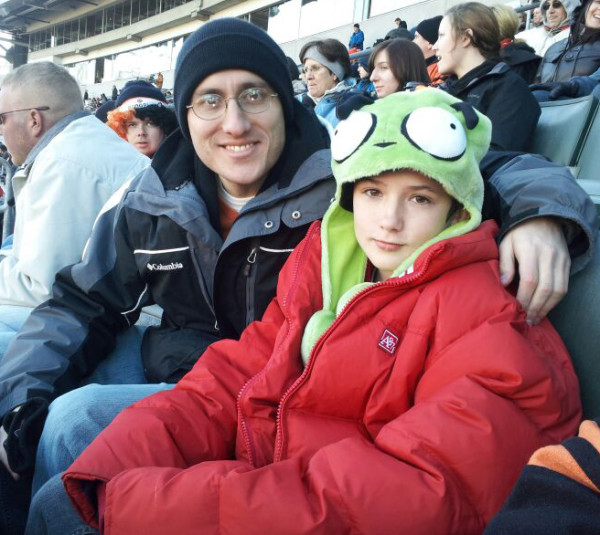 As time passed, our relationship grew. I began looking for ways where I could help expand Cody's horizons, while we were spending time together. I travel for work so I always make sure that Cody learns a little bit about each place that I go. We talk about different types of careers and the different things he may be able to do. We frequently talk about college and about the benefits a college education can bring.
In our match, I have tried to find the 'balance' between being "an adult" who tells him what to do and being "a friend" he can trust. So, this past summer, when Cody texted to tell me that he had tried to pierce his ear (without permission,)I was happy to know that he felt he could trust his 'secret' with me.
Cody is a great kid with a very generous heart and a mom that is a tremendously positive influence in his life. But, as he gets bigger, his decisions get bigger as well. And, like so many other adults out there looking out for teenagers, that reality makes me worry. So, Cody trusting me with his secret was a source of relief because it gives me hope that he may turn to me again down the road when he is in a time of need. And, all of that provides great insight into just how much my little brother has come to mean to me.
Cody lost his "Papaw" (maternal grandfather) about 2 years ago. Papaw was the main male role model in Cody's life and I got to know him through our visits when I would get Cody at Papaw's home. Towards the end, Papaw was in a hospice care facility where Cody and I visited him with the family. And during one visit, Papaw took the time to express his sincere thanks to me for being there for Cody. It warmed my heart that my match with Cody could make that much difference to his Papaw. And, his appreciation only strengthened my resolve and commitment to be there for Cody in any way that I could be.
I have volunteered for many different charity-based organizations over the years, but I never found a scenario where I felt I made a true connection with the person(s) that I was helping, so I was always looking for more.   The Big Brothers Big Sisters program has provided me so much more than I knew to be possible. I came into the program because I wanted to give back, but I had no idea how much I would get in return.
How You Can Help
In addition to becoming a mentor yourself, you can help raise money for Big Brothers Big Sisters of Butler County by participating in Bowl for Kids Sake.
How can you get involved?  It is easier than ever…just follow these quick steps:
1.  Organize a team of 4-6 people
2.  Register here:
Saturday, March 9, 3:00 PM  Eastern Lanes, Middletown
http://www.firstgiving.com/bcbbbs/bowl-for-kids-sake-2013-middletown-ohio
3.  Raise money – It's as simple as each team member asking for $10 from 5 people. They hope to see each team raise at least $50 per member (a total of $200-300 depending on how many people are on your team).
4.  Come enjoy the FUN!!  Come  bowl, get a great looking T-shirt, eat pizza, win prizes and celebrate all your hard work!
 Questions?  Contact Molly Jones at molly.jones@bbbsbutler.org
or 867-1227 or 424-3397.