Caren Theuring

One of the many benefits of working on the ReelAbilities Film Festival for me are the incredible people it has given me the opportunity to get to know. I will be sharing some of their stories in my blog.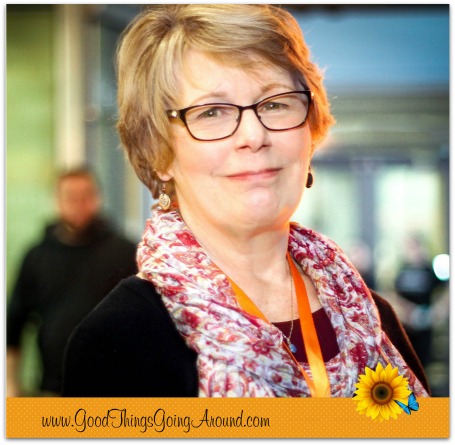 Caren Theuring is most definitely among them. Caren was a tireless volunteer with fantastic organization and communication skills, and relentless follow through. Among Caren's tasks, she took on the huge responsibility of updating our ticketing site and of writing our film screening scripts for our emcees. This was no small feat, going back and forth with our host agencies and sponsors to get the names of panelists/speakers, information, and questions. She did it all always with such a positive attitude and she came through big time. During the Festival, Caren was there each day working at the box office.
I am so inspired by her. She was one very important part of our team who helped us build such an amazing event for the city to be proud.
Everyone has a reason for giving of their time to causes. One of Caren's connection is her step son who lives at LADD's Find-A-Way Apartments and has benefited from the opportunity to live independently in the community. It is for that reason that Caren and her husband, Jeff, do their giving to LADD.
Caren's event planning career came later than most. She had gotten married, had three children and gotten divorced when she was still very young. She was doing administrative work but really wanted to further her education. Financially it was tough. She took out a loan and they did a lot of scrimping; and by the age of 40, she was enrolled in college. It was a part time job for a doctor during her college days that ultimately changed her path. She was offered a full time job after graduation that led to an executive director position (the only employee) of a newly founded professional association for radiologists. It was a role she had for eight years before leaving to figure out what she wanted to do next. Caren organized events locally, then accepted a job in San Francisco, and eventually came home to Cincinnati and worked for the Cincinnati Bar Association. She has been retired since 2012.
Lisa: What was something you enjoyed about being involved with ReelAbilities?
Caren: What was wonderful for me working on the Film Festival was that I felt part of something bigger than myself again and I didn't worry about getting tired, I just did what I needed to do. That was cool. The accomplishment comes when everyone comes together and I did a small piece of it.
Lisa:  You have such a generous spirit about you. Where do you think that comes from?
Caren: In my own life, I have been helped by many along the way. There have been times when I have been down and out and not knowing what would happen the next day. There was always someone who came by and supported me. People need to stop judging people by where they are or where they've been, and just hold out their hand to each other and say what can I do for you? I try to do that now for others. I've learned the hard way that giving too much free advice is not always helpful. I just try to be there for people.
Lisa: Who is someone who stands out for having made an impact on you?
Caren: There have been so many people. When I was first divorced, I was going to a Catholic church and in that particular Parish, the attitude of divorce was that it was someone's fault. I was devastated and not getting support. I walked with my kids to the College Hill Presbyterian Church and the leaders at that time were amazing. They ended up offering me a job. They were such stable, loving people. They took me and my three kids and helped us through the next few years. I'll never forget that.
Also, I have a friend, James, who has been her friend for more than 30 years. I met him when working as an admissions coordinator for a nursing home. He was a nursing assistant and he had been a medic in the air force. He is the most compassionate person you would ever want to meet. He always has a positive attitude toward life. James is a friend who will not let you doubt yourself, and he is believable. I draw from his sweetness. I've always been attracted to extraordinarily compassionate people. James had been a big brother to three boys that he raised, he is always there for people. One time I was personally painting the outside of my house and he helped me scrape and paint. And then the city came by and condemned my garage, so James found this guy and the three of them went to Home Depot to get supplies and redid the front of it.
Lisa:  What is something to which you are looking forward?
Caren: I want to get back on my bicycle and ride it again. I was reminded by ReelAbilities that I can still keep up, I am not ready to sit in a chair. I also either want to go back to San Francisco, or take a trip that follows the follows the trip that Lewis & Clark took to the west coast.
Lisa:  What is one of your favorite quotes and why?
Caren: I spend a lot of time thinking about the spirit of things and really like this quote by Johann Wolfgang Von Gotha. "Whatever you can do or dream you can, begin it. Boldness has genius, power and magic in it."  To me it means you just have to do things. Don't wait for an invitation to do what you need to do. If I had waited, I would never have done anything. Every journey starts with the first step. You can't just sit around and say you will do things. This is what I tell my kids and others. Make the first step, then the second move, then the third move. I do believe there is something greater than ourselves that makes things happen when we start bringing the energy around to ourselves