Centennial Inc

Before Labor Day, my Toast of the Town Toastmasters Club lost one of our dearest members. Several years after her first meeting, after having served as our Club's VP of Education (the most time intensive of our Board positions), inspiring and uplifting us with her humorous and thoughtful speeches, critiques, and leadership, she gave us her last farewell speech. Margo accepted a dream job for herself, working downtown for Macy's – which means our Kenwood lunch time meetings no longer fit into her schedule. Margo's speech was about transitions. As could be expected, it was insightful and powerful. Its messages are ones we all can learn from and live by. I recorded it and am sharing the transcript below.
Transitions by Margo Hess
One of the things that I have taken away from my 2 years at Centennial Inc. is that we are always in a time of transition. Think about that.
You are always either in transition or thinking about what is next. How many of you can say that where I am today is definitely where I will be next year – whether it be personally, professionally or whatever financial goals you have?
It is a big transition for me but it is a time of transition for everyone in this room.
About a year and a half year ago I came to my first Toastmasters meeting at the arm of Becky. She said you are going to go to this meeting and it is going to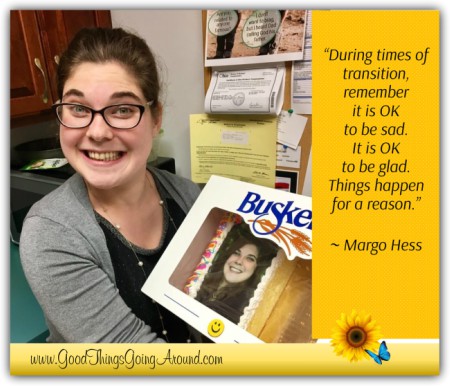 be good for you. And I sat in the back. She made me put my name in for table topics. I groaned. At the first meeting, guess what happens, I got picked.
Now here we are and it is my 10th speech. That in itself is transition.
Transitions can be bitter sweet. There is the excitement of something new, what is next, who am I going to meet, what am I going to do, what am I going to accomplish. But there is this sad part. The 'this is my last time I am going to do this or the other. Or the last time I will see this person on a regular basis. The last time I will pull into this parking spot. Even the last time I will likely be at this meeting.' Those are the sad parts.
Through it all, you have to remember that it is ok to be sad. And it is ok to be glad. Things change for a reason.
So it is during those times of transition when you need to focus on a few simple rules:
Think about what and who got you here. For me personally, there is a long list. My family, my grad school mentor, my college friends who kept a light even when I was unsure. We all need those people. But I think it is not enough to reflect on those people. I think you need to thank those people and let them know they inspired you. And let them know they mattered. And then take it a step further and see if you can inspire them back. Also think about where do you come from, what got you here.
This next opportunity is a passion for me. It is a mix of things. It is everything I have learned at Centennial. It is the start of me as a celebrity at the Old Navy through a weekend sales person at Bath and Body to a manager. The marriage of those things. It is the use of my masters degree.
It seems like it is one big jump but it is made up of a lot of little steps. Transition is just a big goal that is divided into chunks. It is the what and the where and the people that got you there.
I think that is the sad part .It is sad and happy at the same time because you are thinking about the people that matter to you and you are thinking about the sequence of events that got you there, all the random lunches with your work family, all the nights with your friends, and all the work in between.
And that is ok. You are supposed to think about that. Because it matters and you are supposed to feel thankful for that.
But there is the second part to that. It is ok to be sentimental. You should also be really excited. It is ok to move on and it is ok to move forward because it is not like you are just disappearing off the face of the earth. Especially in this day and age. You can communicate with anyone.
Just because you move on, that does not mean that you lose those people. Instead, it is time to connect with the new people whether it be bonding over cooking, couponing or alligators at the zoo, it is connecting.
You are keeping your old friends and making new friends. Connecting over common interests and realizing that the next step is here and you can do it. You have taken all these steps, all these people, these places and you are ready.
Be excited. Be sad. It's ok.
Finally, it is realizing it will not be your last transition. So be sad. Have your last lunch. Know there will be another last lunch and another first lunch. And then another last and another first. And enjoy all that because that is what is going to make you who you are. If you can take that and share that with others, then maybe transition won't always be so scary. Maybe transition is a good thing. Maybe it allows other people to step up to the plate and be there best.
I encourage all of you to think about your personal transitions, where you are today, and what got you there; and where you want to be tomorrow and what will get you there. Say thank you to those who helped you, help someone else, and just have fun and laugh a lot because life is too short not too.
And to Margo, I want to say thank YOU for pushing me to keep scheduling my speeches, for your encouraging words and smiles, for your laughter and your insight….for just being you! I, and all of us at Toast of the Town will miss you!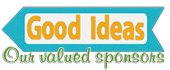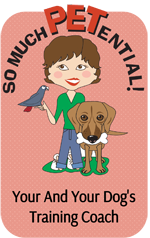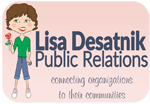 Being human, we all have strengths within ourselves. Those strengths are our greatest assets. Nurturing them has been proven to not only energize us to learn and reach for our goals, but also to lead us toward a happier, more satisfying life. However, we may not even be aware of what they are and even more likely we may not proactively engage ourselves in exercises to heighten those assets.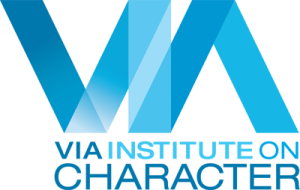 The VIA Institute on Character is a Cincinnati-based nonprofit organization with a global scope of empowering people through the advancement of the science and practice of character strengths. Their aim is to fill the world with virture.
One very important way they do this is by offering their VIA survey free of charge across the globe – and since VIA's inception in 2001, more than 2 million people in 193 countries and 17 languages have taken it. (There is also a survey for youth.) Professionals can use the survey to learn more about their clients or employees.
I highly recommend setting aside 30 minutes to take the 240 question survey. You will be given a free personalized description of your 24 strengths in their order of importance to you, as well as some suggestions for flexing your strength muscles. For an additional $20, you can receive an indepth VIA Pathways Report that shares much greater information on exploring and using your strengths. There are additional resources on the VIA website.  There are additional free and paid resources on the VIA website – and on the new VIA blog – to help you nurture your strengths.  They offer courses too for individuals and professionals whose work is focused on bringing out the best in others.
According to the VIA survey results, I actually have 7 signature strengths (highest rated strengths) because I have numerous score ties. They include:  Honesty, Kindness, Leadership, Perspective, Humor, Appreciation of Beauty and Excellence, and Fairness.
I can see so many of my life choices wrapped up inside these seven virtues. Much of my career has been focused on communicating to inspire positive change in individuals, organizations, communities and even pets. Both my Good Things Going Around blog project and my So Much PETential pet training have to do with bringing out the best in others.
Ironically, just this past spring I spent a lot of time developing my personal, professional 'brand' (with great thanks to T.J. Budd and Tessa O'Neal from Centennial, Inc.). This is what I came up with:
I guide organizations to communicate their core mission and brand with integrity and resolve, telling their story strategically and compellingly. An out-of-the-box thinker, I thrive on developing creative tactical ideas for raising awareness, educating constituents, and building consensus around communication goals. When it comes to relationships, I enjoy being both a leader and a team player, supporting the strengths of others.
My pet training brand (which I am still tweaking) is:
I believe training is not just about modifying behaviors and teaching skills, it is also about e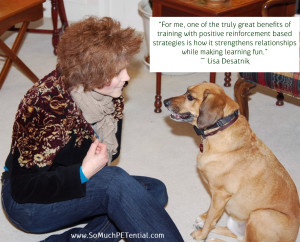 nhancing quality of life for our pets. In my quest to have well mannered pets, I began studying the science of animal behavior and positive reinforcement strategies over 12 years ago; and I can't stop learning. My behavior change strategies blend science with kindness, integrity, creativity and fun. Seeing how that approach has not only set myself and my pets up for success, but also strengthened our relationship, is the driving force behind my passion for educating and helping others achieve similar outcomes.
Wow, I can absolutely see how my VIA strengths are an integral role in all that I do. And by my focusing on them it has led me to make career choices that are very satisfying for me.
I'm excited to say that my latest career path – is working with VIA! As a contractor, I am part of the communication team with two very positive, motivating people – Kelly Aluise and Breta Cooper – and I am working on telling their story through social media. I'd love it if you'd follow us on Facebook, Twitter, or Google+,  AND please stop by the all new VIA blog that I am managing.
This is absolutely the stuff I thrive on!
It is so easy for us in life to focus on our own and other's shortcomings, and when times are difficult to lose sight of those virtues that give us the capacity for greatness.  However, by shifting our focus instead toward those virtues of strength an amazing and beautiful transformation can happen. We grow and prosper in new, meaningful ways. Our life is so much more satisfying.
I am choosing to focus on nurturing my VIA  strengths. How about you?