Charisse Gibson

It was very hot and humid day in downtown Cincinnati. Traffic was heavy. Pedestrians hurriedly walked along the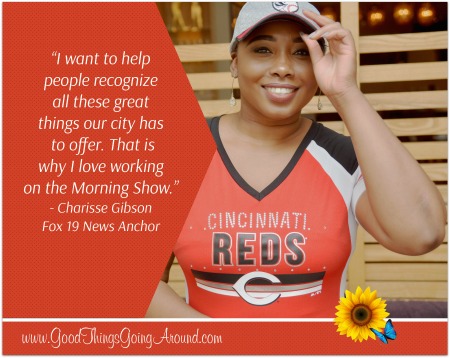 sidewalks. The sun's reflection bounced from windows and caused deep shadows among those in its path. Hours later there would be loud music reverberating from the stage at Fountain Square. Families and friends would be celebrating a win from the Great American Ballpark – or at least a good time. Bars would be filled with professionals, laughing, letting off stress.
I was standing on the other side of the glass at 21C when her car pulled up to the entrance. The driver's door opened and out came a woman wearing a grey baseball hat with a Mr. Reds emblem facing forward and a black, white and red jersey with 'Cincinnati Reds' placed boldly in the center. She had this confident way about her that just attracted you to her, and when she caught someone's attention she welcomed it with a beautiful smile.
It doesn't take but a few minutes in her presence to feel like Charisse Gibson has been your friend since childhood. You laugh. You share. You are inspired. Conversation is just easy.
The charismatic morning news anchor on Fox 19, who begins her day when some are just ending theirs, treats everyone like she has known them for years. What you see when you watch her on television is exactly what you see when you are with her out in the world.
I really just love being around Charisse. She has a way of brightening my day and she is such an attentive listener that I have got to be careful to not let my stories ramble way too long. I did, after all, want to have plenty of time to learn about HER.
It is a natural instinct to think this Ms Cincinnati was born and raised here but her appreciation, she told me, actually stems from being an outsider looking in. Her roots are in New Orleans, a region known for its Dixieland jazz and creole cuisine, and she has worked all along the Gulf Coast before settling into Cincinnati's artsy Pendleton neighborhood with her sister and her dog (now two dogs).
"I love Cincinnati. It has inspired me in a way to do my best work," she told me. "My bedroom has a lot of natural light and it is pointed to a park. When I wake up on Saturdays, I hear basketballs dribbling, kids screaming, people riding by with pedal wagons or walking dogs. I hear that old church bell. Those sights and sounds just inspire me and I begin to write.
"I love seeing the neighborhood go through change, seeing how the old and new interact. And I love the fact that in this city, not a day goes by that there is nothing going on. Having grown up in New Orleans, what I missed about back home was that I could walk out my door and find music. I didn't realize when I came how much jazz there is here.
"I think people here have no idea how culturally diverse Cincinnati is. Sometimes it takes someone from the outside like me to get people to realize all Cincinnati has to offer. I want to help people to recognize all these great things our city has to offer. That is why I love working on the Morning Show, to bring out the best in Cincinnati."
When Charisse ends her day at Fox 19, the rest of her day begins. I wouldn't be surprised if she spends as much time giving back as she does on the set. Charisse is president of the Greater Cincinnati Association of Black Journalists and is diversity co-chair of the Journalism and Women's Symposium. She also has one-on-one Skype conversations with college students helping them to navigate their journey and career path.
AND generously gives of her time to many local causes along the way. She even organizes her own fundraiser in January called, 'Guess Who's Coming To Dinner' that sold out last year.
I asked Charisse where this never-ending energy comes from. "My parents. They are very young at heart and that is passed on to us," she told me. "They still love Disney World and want to ride all the rides.
"I turn 30 next year and sometimes I feel like I am 17. I want to be involved and help do things. It keeps me motivated.
"I find happiness in everything. You have to. You have to find opportunity and happiness in everything that is around you. And it is not only opportunity for yourself but finding opportunities to help others. That is why I do as much as I do. When your joy comes from seeing other people happy instead of it being self-indulgent, then that makes you feel better. I know that even just sitting down with someone and talking with them, being able to give them advice or bringing them on the Show and seeing how elated they are, that makes me so happy."
When it comes to being your best self, Charisse had this advice, "If you want to find purpose, go out and put yourself in situations where you can have some sort of impact or others can have an impact on you."
Words we can all live by.