Cincinnati arts organization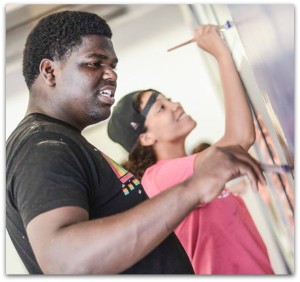 Theirs is a brilliant concept. Hire young, creative, untapped talent and give them the opportunity to work side by side a professional artist. Encourage them to think, problem solve, share ideas, work together as a team, create, and build. Watch communication and life skills, confidence, and creative wisdom soar.
And, in the end, another beautiful, permanent masterpiece is unveiled as a gift to our region and a lasting reminder of the growth that occurred in the process.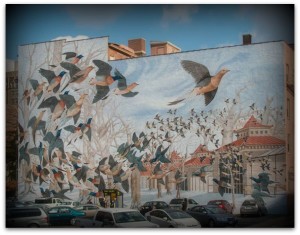 That is the impact of a Cincinnati nonprofit for which I have huge admiration, called ArtWorks Cincinnati. Through installations, sculptures and more than 100 murals, ArtWorks has become the largest employer of visual artists in the region. The organization has provided jobs, training and business development support to thousands since it was founded in 1996.
In ArtWorks own words, it is 'head over heels in love with Cincinnati and it is their mission to help everyone else experience that love as fully as they do.'
Gosh, what an amazing mission. And the team behind that love continually dreams up new, innovative ways to get our community engaged.
If you drive past (or walk up to) the Freedom Center Lawn in downtown Cincinnati on Freedom Way at Walnut Street (at the foot of the Suspension Bridge in Cincinnati), you will see ArtWorks latest idea that was just dedicated this week.
'Sing the Queen City' is the signature piece of a project called #CincyInk supported by Pure Romance and The Carol Ann and Ralph V. Haile, Jr./U.S. Bank Foundation.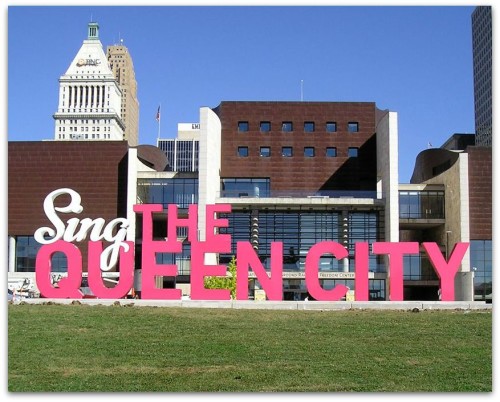 #CincyInk
The project began with a call for letters, stories, tweets and other written expressions of love for Cincinnati from everyone who calls are vibrant region home. More than 1,000 declarations were submitted that were carefully reviewed, organized and fit together into a beautiful poem called Seven Hills and a Queen to Name Them, commissioned by Chase Public.
Then, Kurt & Kremena divided the poem into 263 words and phrases, and designed each of them as a unique tattoo and One Shot Tattoo permanently inked them on the bodies of more than 250 proud Cincinnatians.
The project will culminate November 20…more details to come!
What a fun and incredible effort to bring our community together, all around our common admiration for this place where we live, play and work.
Thank you to ArtWorks Cincinnati for all that they do to enrich our region…and enrich lives.
ArtWorks – CinyInk Promo Video from ArtWorks Cincinnati on Vimeo.
Seven Hills and A Queen to Name Them
Poem commissioned by ArtWorks, underwritten by The Johnson Foundation, and crafted by Chase Public.
Learn more about the making of the poem (click here).
I always say a prayer
when I see you through
the cut in the hill,
my drama Queen City.
You swam in bourbon and blues
and called your song the river.
I doused myself in your laughter.
Now I climb hilltop woods
and stone halos
to find an unabridged view.
You're an artist until proven innocent.
I reached for your hand in a gallery
with a painting named Springtime.
You stood me in the northern light
of a Court Street window
and made a photograph.
You made away with me.
*******
Cincinnati was first spoken by the mouth
of the Licking, in a bend
of the good river, the Ohio.
A city lifted by the genius of water.
Who can know this place,
its streets laid out with the peculiar vision
of constellation charts? Let's draw our own maps:
triangulate the bells of every parish,
sketch neighborhoods that overlap zip codes.
Buy a cone at every summertime stand,
blow a horn at every pawn shop,
eat barbecue and slaw at every smoker
while we sift through the small talk:
Which chili parlour? West side or east?
State or commonwealth? What high school?
Can anyone say where our city ends?
The Queen shares her crown
with the northern South
and all who call her home.
Our city's limits are carved in hearts, not stone.
*******
The Queen dreamed out loud,
Mama's gonna pull history from the buildings,
roll it out on the street for you to see
original brick, hidden under siding, under asphalt.
Story on story, hoisting us higher into history.
Mama's gonna open bar doors, stretch the taps out
to the sidewalk, pour drafts for drinkin'.
Light the sacred glass in blooms of stonework
and paint the streets like a beer bottle mosaic.
Mama's gonna build a boat bigger than Noah's,
a wheel and tall stacks, to whistle your name.
Plow the lonely barge lanes in winter
and hop-skip the river boat to boat when fireworks fly.
Mama wants to make it happen.
Mama's doin' it for you.
*******
Corn-fed pig town.
You taught me three-ways, goetta fests
and pony kegs. Bengal shouts in winter winds.
You taught me to Ezzard Charles,
to jab, weave and strike like a cobra.
To throw myself out of the corner and into the fight.
To cheer into the river night
with the ghosts and golden spirits
of Crosley Field, a palace to the fans.
Throat sore, eyes too full of light.
You taught me to avoid the tag,
to sing the knotted history of the hit king
with a stubborn tongue.
To slide head-first into home.
*******
I came for the magic and stayed
for the music. Heard your trumpet calls,
symphonies and syncopations.
I let a stranger sing to me,
lines that told the truth like graffiti
over sanctioned street art.
She phrased a phrase too charged to hold key.
Music reaches down the one-ways from a public stage,
rebounds off homes from church festivals.
Brick, here, is a canvas for revolution,
a reawakening of sweat and spirit.
The site of the blacksmith off Ridge is now
a record store, hammer clang to cymbal crash.
Time goes by, places change, the rhythm pushes on.
*******
The fog rolls over the night hills—
not every hill, but here.
Rolls in and hides the limits of the night.
I drive Montgomery Road to our centennial house.
From the porch, I hear the baby cry,
a new squall storming old plaster.
Joining the wind, an anthem
to our alma mater. In my arms,
I shush with wordless whispers
and no magic, sounds to settle
an arrival home.
This street, where puddles splash. On this hill,
with no historic name, one among many,
the fog paddles on into memory.
*******
Home. The name of a surprising house,
its numbers bright as jewels.
There's a title for every square foot
of this city. We call them all again.
Reclaim them. Choosing a name
is a declaration of intent.
But it's uncertain magic.
Cincinnati, named for the leader who cast aside
his sword when the war was won.
Named for power surrendered, and power is surrendered
in time. Swords not laid down will one day drop.
We who had been torn, stirred, packed down,
formed and baked into the brick of change,
are now referred to as able—
spoken of when pointing to progress.
The mystery unwinds but doesn't unravel.
*******
Cincinnati is a promise that we make
to our inner selves,
and I promise
there are still stories
to tell and to tell.
Streets to walk, and corners,
like the city , to come around.
Marry me in Eden Park,
Lay with me at Spring Grove.
It would be beautiful.
You're the heart in my wrist,
the arrow on my chest.
I tried to draw you some mysterious name
but you turned my line
into a circle around us.
Sing the Queen City.
Say home.
Coast the long cut.
Cross that bridge.
*******
The racially and economically diverse Kennedy Heights neighborhood characterized by vacant buildings and payday lenders is about to undergo one of the region's most dramatic revitalizations. After nearly five years of planning, the Kennedy Heights Arts Center, along with partners Kennedy Heights Montessori Center and Kennedy Heights Development Corporation, will break ground on construction November 14 to transform the vacant and derelict building (on the corner of Kennedy Ave and Montgomery Rd) which once housed a Kroger into a vibrant cultural arts campus expected to attract thousands annually. I am working with them on media relations for the event.
Please click here to read a story in Soapbox Cincinnati.
The ground breaking will begin at 3:00 pm with the program portion beginning at 3:30 pm. City officials, Robert D. Lindner, funders, neighbors and school children will be in attendance. There will also be a performance by the Silverton Paideia show choir.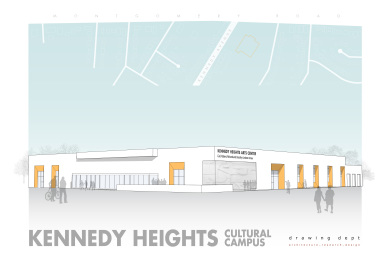 A decade since local residents joined to save a crumbling historic mansion and transform it into the Kennedy Heights Arts Center, that Center is now at the helm of this neighborhood transformation. The Arts Center's new second location in the Kennedy Heights Cultural Campus, located two doors down from their historic mansion facility, will quadruple the size of that Center and double the number of people served (to nearly 10,000).

When completed in 2015, the 10,500 sq ft Kennedy Heights Arts Center Carl, Robert, Richard and Dorothy Lindner Annex will include a 3,000 sq ft multi-purpose event center for theatre, dance and music classes, workshops and performances; a state-of-the-art Scripps Howard Media Center that will offer arts education programs for all ages in video, photography, animation, website design and graphic design; and ten individual artist studios. A gallery in the lobby will be a venue for resident artist exhibits.
A $250,000 leadership gift from Robert and Betty Lindner paved the way for the $700,000 project. Other major contributors include: Greater Cincinnati Foundation, Scripps Howard Foundation, George and Margaret McLane Foundation, The Kroger Co., John A. Schroth Charitable Trust/PNC Bank Trustee, Louise Taft Semple Foundation, Thomas Emery Memorial, Ruth and Robert Conway Foundation and gift from many individual donors.
For the Lindner family, this revitalization carries special meaning. The siblings (Carl, Robert, Richard and Dorothy) attended Kennedy-Silverton School as children, which was torn down to build Kroger and ultimately is becoming transformed into the new Kennedy Heights Cultural Campus. They also played in the yard of the former funeral home on the grounds where the Kennedy Heights Arts Center sits today. The late Carl H. Lindner and Robert D. Lindner have been generous supporters of the Kennedy Heights Arts Center since its founding, contributing a combined total more than $900,000 over ten years to support renovations and programming.
In addition to the Kennedy Heights Arts Center Lindner Annex, the Kennedy Heights Cultural Campus will include the Kennedy Heights Montessori Center and space for a third organization. A $675,000 grant from the City of Cincinnati helped the nonprofit, volunteer-run Kennedy Heights Development Corporation to acquire the building; and KHDC spent additional funds to stabilize it before this ground breaking.
For more information on the Kennedy Heights Arts Center, please visit: www.kennedyarts.org.