Cincinnati dance for children and fathers
I met Mark Walker over a year ago when he began coming to a nonprofit marketing group I lead for the American Marketing Association. I recognized him as a quiet man with a large, passionate heart. Mark told me he is a father to a wonderful little girl who he loves very much. She has a developmental disorder affecting many parts of her body, and so does things differently from many of her peers. He started attending my meetings because he was startin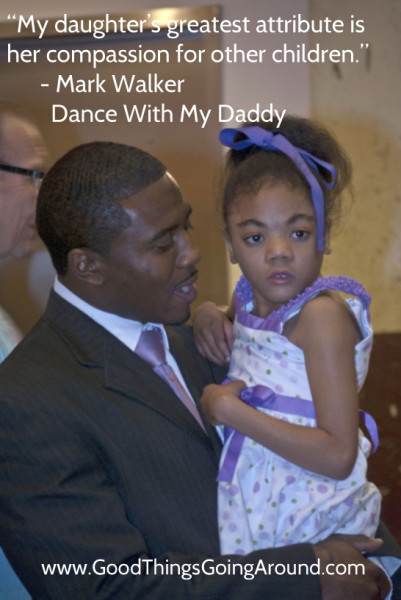 g a nonprofit where other dads like himself could get together with their children for a fun, social, supportive gathering. His nonprofit – Dance With My Daddy – also offers access to other community resources.
Mark's next dance for dads and their children is coming up this Friday, October 4 and will be held at The Centennial Barn (110 Compton Rd, Cincinnati, Ohio 45215) from 7 to 11 pm. It is free to families.
I asked Mark about his organization.
Tell me about your inspiration for the dances:
My inspiration comes from my awareness of how I am treated as a father of a child with a disability. I have noticed over the years that when nurses and doctors come in to a room to talk to me or my daughter's mother they immediately talk to my daughter's mother while I sit in the corner unacknowledged. Because of that I was inspired to do something special that my daughter and I could share.
What is your child's disability?
My daughter was diagnosed with Cornelia de Lange
Cornelia de Lange syndrome is a developmental disorder that affects many parts of the body. The features of this disorder vary widely among affected individuals and range from relatively mild to severe.
Cornelia de Lange syndrome is characterized by slow growth before and after birth, intellectual disability that is usually severe to profound, skeletal abnormalities involving the arms and hands, and distinctive facial features. The facial differences include arched eyebrows that often grow together in the middle; long eyelashes; low-set ears; small, widely spaced teeth; and a small, upturned nose. Many affected individuals also have behavior problems similar to autism, a developmental condition that affects communication and social interaction.
Tell me about your child's strengths/qualities that are not disability related:
My daughter is a fun child. She is always smiling and loves to play with her brothers and sister. Her greatest attribute is her compassion for other children. She will often cry when she sees another child crying.
How often do you hold the dances:
We hold the dances annually. They are usually held in the fall.