Cincinnati Human Relations Commission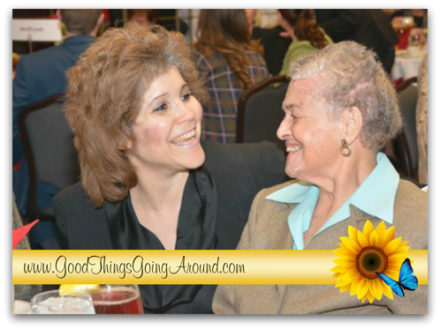 This week, I got to meet a real hero.
At nearly 96 years of age, Marian Alexander Spencer is an endearing, down-to-earth leader who has championed human rights and equality through her lifetime. She has been honored time and again for her unrelenting commitment to positive change; and this week she was recognized twice – the Cincinnati Human Relations Commission (CHRC) and the office of Cincinnati Council member Wendell Young announced a downtown street named for her legacy; and the Assistance League of Greater Cincinnati presented her with its esteemed annual Aspire Cincinnati Award.
Marian stood behind the podium at the Aspire Cincinnati™ Award Luncheon, and told a filled room of her grandfather who was a freed slave. His advice to her, and her brothers and sister, was always to 'get your education, vote, and find people who will move you forward.' (The Award is given to a local community leader and philanthropist who has demonstrated a passion to inspire and aspire, and to giving back.)
She followed that advice, graduating Gallia Academy High in Gallipolis as co-valedictorian and a member of the National Honor Society. She moved to Cincinnati to attend the University of Cincinnati, earning her bachelor of arts degree and meeting her husband, Donald A. Spencer.
Marian is a woman who has the courage to look adversity in the face and say, we can do better and we will all be better when we are as one.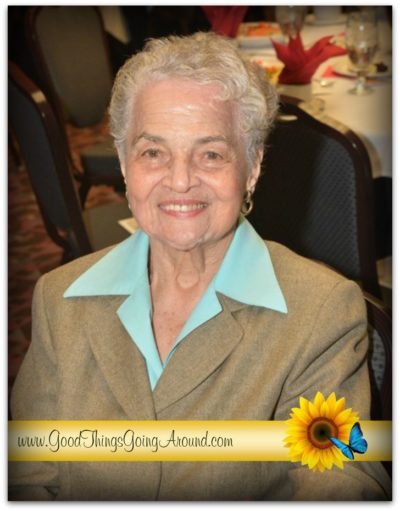 According to the Cincinnati Museum Center, one of her earliest, most visible civil rights activities was in 1952 when she chaired the NAACP Legal Action vs Coney Island so that her sons Donald Jr. and Edward Alexander could swim there. Marian then became a life member of the NAACP, serving on the Executive Board, as chairman of both the Legal Redress and Education committees. In 1981, she became the first female president of the Cincinnati branch.
She also served as chairperson of the Community Steering Committee for Indigent Defense, as chairperson of the Ohio Civil Rights Commission, and as president of both Woman's City Club and Links, Inc. In addition, she was a member of the University of Cincinnati's Board of Trustees. In 1983, Marian was elected to Cincinnati City Council as a Charterite and served for one term.
Sitting at her side, holding her hand and being warmed by her smile; I felt as if I had known Marian my entire life. Her sweet, tenderness reminds me so much of my late grandmother, who traveled as a young girl on a crowded boat from Russia to find hope in America and who died at 101.
Marian's strength of character and tenacity to create a world where we can all be stronger and happier together is what makes her a hero. I am so glad for the opportunity to have gotten to know her, and for her legacy she has bestowed on our Greater Cincinnati region and beyond.
About the Assistance League:
The Assistance League of Greater Cincinnati is a nonprofit, all-volunteer organization dedicated to meeting critical needs of children and adults by identifying, developing, implementing and funding ongoing community programs. If you would like more information including membership, please visit their website.
Please click here to see my full photo album from the event on my Good Things Going Around Facebook page.
#GoodThingsCincy

How often it is that we find out how very little we actually know about the details of many of the people who are loosely part of our lives. One great benefit for me to writing this blog is getting the opportunity to learn about those stories.
Arzell 'Papazell' Nelson is one of those people in my world. We have been 'connected' as Facebook 'friends' for more years than I can remember; but I am finding out there is so much to this man who has politely offered encouraging words that needs to be told. I am awe struck at the accomplishments of a man who, up until now, has been under my radar.
A composer, playwright, musician, music promoter, civil rights advocate, mentor, leader, and family man, what Arzell has achieved, what he stands for, and the example he sets truly needs to be told proudly and widely.
It struck me as very humbling how his answer to my question about his proudest accomplishment was unequivocally his being honored locally (just one of many) in 1981 with the Kool Jazz Festival Award, Dino Santangelo Award and the Ohio Valley Jazz Award. This may sound huge to anyone reading this, but take into account this is a man who, in 2011, flew to India where he accepted the "KARMAVEER PURASKAAR'S" GLOBAL AWARD for SOCIAL JUSTICE and CITIZEN ACTION and NOBEL LAURETTE under the GLOBAL ARTISTES 4 CHANGE MUSIC category. Arzell also has been given the key to our city by three different Cincinnati mayors, was recognized twice by Ohio's Governor George Voinovich by proclamation for his civic leadership, and was recognized by the Shreveport, La. Ukraine's Department of State and the AFL-CIO. President Bill Clinton wrote him two letters of appreciation for Arzell's work in human relations.
What caused this internationally respected leader to be so proud of that Kool Jazz Award? It was presented to him for his musical score and show, 'Little Boy Jazz' performed at the Playhouse in the Park Marx Theatre which most importantly to him included his daughter and son playing lead roles, and many School for Creative and Performing Arts (SCPA) students performing alongside them.
Truly, this is a man with a huge heart for changing the world beginning with the young, impressionable minds of youth.
The evolution
Arzell's childhood came at a time when segregation was still very familiar. When his family moved from the West End to East Walnut Hills, they were the first black family on the street. It was many years later – in 1973 – when he joined the Cincinnati Human Relations Commission and was charged with reducing juvenile delinquency in the first neighborhood he knew.
He asked his boss, Executive Director Virginia Coffey, "What do you want me to do?" Her answer is what pretty much has changed the course of Arzell's life. "Whatever you can do to keep kids off the street," he told me he replied.
Music was part of his entire family. It was one of his great memories growing up. And so, with this task, Arzell began organizing workshops with a borrowed electric piano. Attendance took off and soon he began writing songs for his students to perform.
"I didn't really have a plan in terms of pursuing music," Arzell told me. "It just happened."
One morning he saw Sammy Davis Jr. show support of President Nixon on television. It upset Arzell and moved him to write a musical, Straighten Out Sammy. He put together a group of local singers and actors and was getting about 300 people to show up for performances. That led to Arzell's group, the Corporation of Truth, which played Cincinnati's first Martin Luther King concert.
And from there, this man who has been under my radar all this time, went on to write over 300 songs and more shows. He has recorded at Columbia Records; promoted concerts of big names; and opened up on stage for well known artists such as Philip Bailey, George Dukes and Freddie Hubbard.
Through it all, he has continued his pursuit of social justice. His career with the Cincinnati Human Relations Commission spanned 25 years, ending with him in the role of executive director. He also served as a cultural/ethnic diversity consultant. He has been with programs such as Share Food, which involved food distribution to poor and working class citizens at minimum cost; and was also involved with 'Back on the Block', a program offering education, recreation and employment opportunities to youth.
Currently Arzell is working on a film documentary and television series called, 'Don't Count Me Out' that will address the issue of violence against women and children.
I asked him about an experience that touched his life. He shared with me a time when he called home to his dad from college asking for money. "I said, 'dad, I need $50," Arzell told me, "and my dad told me, 'Oh you do? Tell you what, call me back in a couple days to let me know how you are doing.'
"I ended up getting the $50 on my own and I remember that I was so proud," he continued. "I called my dad to tell him and he told me, 'Great, I am so proud of you.' Dad taught me to look out for myself and that put me on my right track of believing in myself and my abilitiess."
Yes, Arzell, you definitely have abilities. And I am so glad that I learned about them!
Please click here to listen to a sample of Arzell's music.
#GoodThingsCincy