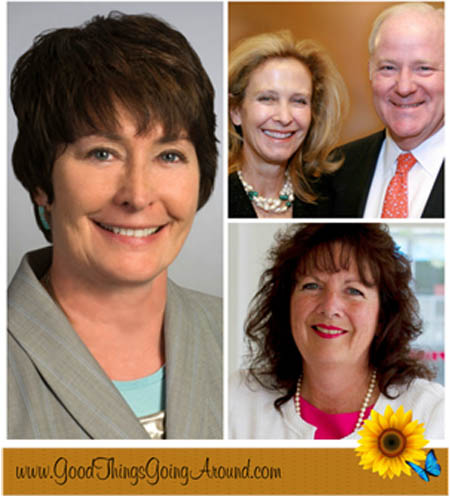 Mary Ronan, superintendent of Cincinnati Public Schools, and John and Eileen Barrett and Chris Bochenek, were recently honored by the Assistance League of Greater Cincinnati at its annual awards presentation for their commitments to giving back.
Mary Ronan
Mary was recognized with a National Operation School Bell Award. Operation School Bell is an Assistance League program that provides school uniforms annually to more than 2,500 children in poverty in 35 public and parochial schools in greater Cincinnati and northern Kentucky.
Some of the ways Mary has supported Operation School Bell and the Assistance League include: regularly assisting as a volunteer during Operation School Bell uniform distribution; developing a protocol enabling Cincinnati Public Schools to pay for school buses used to transport students to Assistance League distribution sites, which freed the nonprofit organization's chapter funds, enabling an increase in the number of children served; and arranging for Operation School Bell coordinators to regularly attend staff development meetings with the resource coordinators from each school, strengthening the AL role and program impact on the children participating in Operation School Bell.
John and Eileen Barrett
The Barretts are long-time community leaders and have received many awards for their philanthropic work.
John is chairman, president and chief executive officer at Western & Southern Financial Group. He serves on the board of directors for Western & Southern Financial Group and Cintas Corporation and is a member and former chairman of the Cincinnati Business Committee. He serves on the executive committee of the Cincinnati Center City Development Corporation (3CDC) and is active with REDI Cincinnati and the University of Cincinnati and its foundation.
Eileen serves or has served on the board of trustees for Central Clinic Foundation; Barrett Cancer Center; Children's Protective Service-Families Forward; The Children's Home of Cincinnati; Cincinnati Country Day School; Cincinnati Zoo and Botanical Garden; and The Springer School.  She is co-chair for Ride Cincinnati; former United Way Campaign co-chair; and helped raise more than $1 million in 2011 at the Queen City Ball Gala benefitting the Barrett Cancer Center and the Lindner Center of Hope.
Christine A. Bochenek
Vice president and senior program officer for human services with the Haile/USBank Foundation, Christine has served 28 years with U.S. Bank and has been with the foundation since it opened in 2007. She serves on the board of trustees for the Women's Crisis Center and the Hamilton County Job & Family Services Family Fund; Scholar House of Northern Kentucky; Homeless to Homes Plan; and Seton High School's Advancement Committee.
The Assistance League of Greater Cincinnati is made up of volunteers who run programs dedicated to aid women and children in crisis, serving Hamilton, Butler, Warren and Clermont counties in Ohio, and Kenton, Boone, Campbell, Grant and Mason Counties in northern Kentucky.