Cincinnati theatre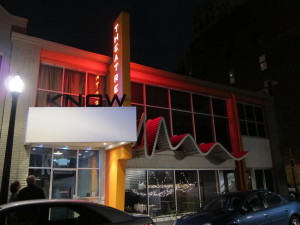 I love creative ideas for raising money!
Know Theatre has announced that once every quarter, it will host a micro-granting potluck dinner called the Artists Supper Club and will award small community sourced grants to support individual artist projects and initiatives that help create, build, or strengthen our Greater Cincinnati community.
How does it work?
At the dinner, everyone in attendance contributes $10 and brings an entree or side dish to share. Everyone who contributes is invited to submit a one-paragraph project proposal.
Throughout the dinner attendees will review the proposals and vote on the project they think should be funded. At the end of the dinner the project with the most votes will be awarded the money raised that night. It's that simple.
Through the generous support of the Carol Ann and Ralph V. Haile Jr./U.S. Bank Foundation, Know Theatre will also match each grant award up to $500, thus increasing the impact of these micro-grants.
"We're excited about the impact this could have in the longer term. We want these dinners to be about the sharing of ideas, and the building of a stronger community. We believe that this is a great tool for local artists who are interested in sharing ideas and building a stronger Cincinnati", says Eric Vosmeier, Producing Artistic Director.
Dates:
Sunday, March 24 @ 4 pm
Sunday, June 23 @ 4 pm
For more information, please visit the Know Theatre website at this link.