Cincinnati veterans
In her 98 years, Anna has seen great sacrifice. She has also seen great heroism. During World War II, the woman who now lives in a modest home in Bond Hill was known as a trailblazer. She was a member of one of two units of African American Army nurses in Atlantic City serving amputees returning from the European Theater.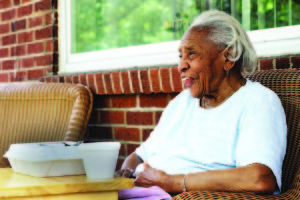 "It was interesting work," she said. "Some of the men were so sad that they couldn't go back into action. They wanted to fight. They felt that they had failed because they were wounded."
Those are memories Anna will never forget. Today, as her own health is waning, she is cared after by her 57 year old daughter. Still, with her mobility an issue, getting around isn't as easy as it once was. And home repair bills can be costly.
People Working Cooperatively, a Cincinnati nonprofit that provides professional home repairs and modifications to low income older adults and homeowners with disabilities in the Greater Cincinnati area, has fixed a like in Anna's ceiling. PWC also installed a ramp and handrails, new flooring and other work.
Running through November 11, People Working Cooperatively's Ramp It Up for Veterans' campaign is trying to raise $500,000 to assist the 400 plus veterans in the Cincinnati area on its waiting list for critical home repairs. You can text-to-donate a $10 donation by texting the letters PWC to 80888 or give online at www.pwchomerepairs.org.