CINspirational People is a feature of Good Things Going Around profiling diverse people of Greater Cincinnati, what inspires them, and what is inspiring about them. You can read more profiles by clicking on the link at the top of the blog. Do you know someone to suggest? Please reach out. Thanks!
Today, we are profiling Elaine Suess, a leadership coach and an organizational development consultant.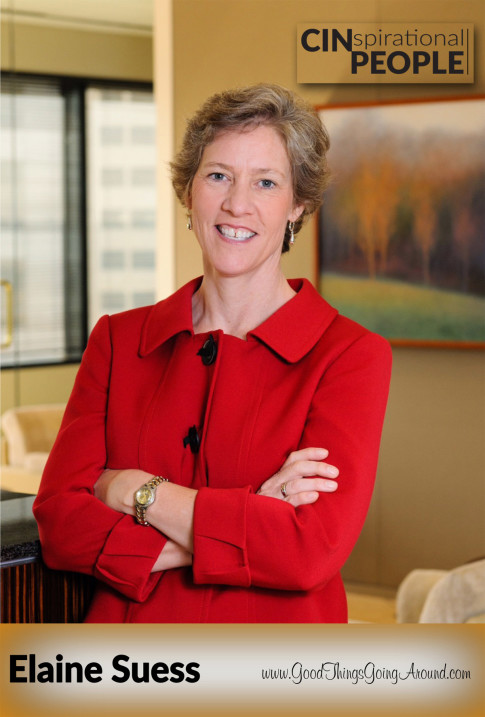 GTGA: What is an accomplishment you achieved that you are proud of?
Elaine: Starting my own business in 2006 after 20 years in corporate life is what comes to mind. I joke that if you live long enough, you might be able to do what you were "born for." I feel like that's where I am at this point.  It's beyond exciting to help my clients move actively toward positive change and what they feel is their potential, and then even move beyond it!
GTGA: Tell us about someone who has been a positive influence in your life.
Elaine: I'll have to go beyond the singular here and turn this into "someones." My parents have been the most positive influence. Hands down. They are so amazing I'm getting teary eyed just writing this!
GTGA: What is a motto you live by and why or how has it impact you?
Elaine: I don't have just one motto, but a few that I love are:  "The only way to predict the future is to create it" Peter Drucker. This aligns with one of my top strengths – Activator. Another is from Greg Boyle who works with "returning citizens," who says, "Sometimes resilience arrives in the moment you discover your own unshakable goodness."  My belief in people's innate goodness drive many of my choices and actions.
GTGA: What is your biggest motivator?
Activating the positive changes, growth and joy I see in the people I work with.
GTGA: Tell us about an act of kindness you have done, witnessed or been the recipient of and how that made you feel.
I am fortunate to mentor a number of individuals who have many challenges I've never had. I'm the lucky one here – I learn much from them and they regularly inspire me.