CISE Fund
In Cincinnati's urban core, there are 1,650 youth attending eight Catholic elementary schools supported by the Catholic Inner-City Schools Education Fund (CISE). Ninety five percent of those students live below the poverty level and seventy-five percent are not Catholic.
Generous donors and volunteers make that all possible.
As supporters gathered recently to kick-off CISE's 2013 Fundraising Campaign, they joined together with a large goal in mind. CISE must raise $2.5 million annually to provide the needed support to eight Catholic urban elementary schools in Cincinnati.
University of Cincinnati Men's Basketball Coach Mick Cronin had this to say to CISE's Young Executives volunteers: "We are all busy, but you can't make a difference if you walk by and look the other way. By helping raise funds to keep the CISE schools open, there is no question you are making a difference and changing the lives of the children in these schools."
The CISE Young Executives are a dedicated team of young business leaders, led by Co-Chairs Eric Schuermann and Matt Champa, who call on local businesses, individuals and foundations to raise funds and awareness for CISE. Since their inception in 1999, they have raised over $8.5 million to benefit the CISE schools and their students.
University of Cincinnati President Santa Ono was the keynote speaker at the CISE main kick-off event where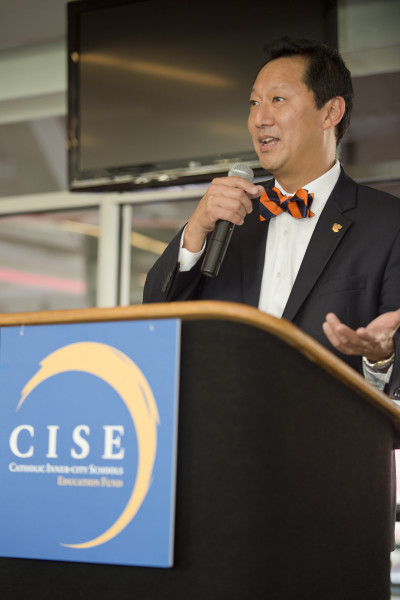 Jennifer Drennan was honored as with the CISE Distinguished Educator Award. Drennan, a pre-school teacher at Holy Family, shared why her job matters, "My students know that I love and care about each one of them and will treat them with respect. In turn, they learn to treat others with kindness and consideration."
The schools supported by CISE are St. Boniface in Northside, Corryville Catholic, St. Francis Seraph in Over-the-Rhine, St. Francis de Sales in East Walnut Hills, Holy Family in Price Hill, St. Joseph in the West End, St. Lawrence in Price Hill and Resurrection in Price Hill.
To learn more about CISE and how you can help, please visit www.CISEfund.org.