dance on bus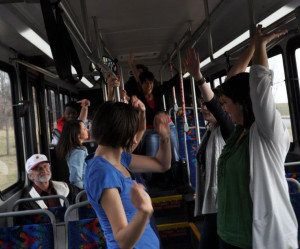 Pones in Public and TANK present "Ride with an Artist Day"!
I love it! It began as any ordinary ride for the passengers about the #25 TANK bus in downtown Covington, Kentucky last week. Unbeknownst to them, the group that boarded together carrying a boom box was actually a group of dancers from Pones Inc. Within a few blocks, music began and suddenly the bus was filled with dancing!
You can imagine, there were a lot of smiles being passed around. By the second song, riders were invited to join along – and many did. One person even learned all of the moves by the time the bus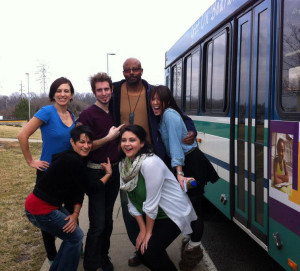 reached NKU.
Founded in 2008 by Kim Popa and Lindsey Jones, Pones Inc. has collaborated with over 100 artists and 50 art and service organizations. The company creates site-specific performances through a fusion of movement and dance with other art forms. Pones Inc.'s accessible and participatory performances have been seen in over 30 Greater Cincinnati locations, as well as, Indianapolis, and Chicago. Ongoing programs are available year round for artists and art groups, schools, and businesses.