Diane Jordan-Grizzard
The YWCA of Greater Cincinnati will host the 35th annual Career Women of Achievement Luncheon on May 14, 2014 at the Duke Energy Convention Center. The YWCA is seeking nominations for this esteemed award, which 274 women have won over the last 34 years. The Career Women of Achievement Awards recognize outstanding women at the pinnacle of their careers. Former Career Women of Achievement Honorees Diane Jordan-Grizzard, President & CEO, Thembi Speaks, LLC and Kathy Kelly, President Kroger Personal Finance, The Kroger Co., are the distinguished event co-chairs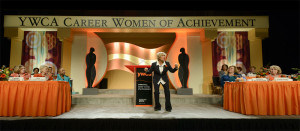 for 2014.
For more information and nomination forms, please visit www.ywcacincinnati.org or contact the YWCA at 513-241-7090. The deadline for receipt of nominations is Monday, January 6, 2014.
The YWCA established the Career Women of Achievement Awards in 1980 to increase awareness and appreciation for the diverse contributions of women in the work force and in the community. An independent panel of community leaders will judge the nominees based on their outstanding career achievements, strong leadership qualities, and ability to serve as role models. "It is an honor to be selected to Co-Chair the 35th Anniversary Career Women of Achievement Luncheon and to celebrate these 'pearls of our community'", commented Kathy Kelly. The eight finalists are recognized at the Salute to Career Women of Achievement luncheon. Past honorees have been awarded from all professions, including educators, artists, lawyers, human service executives and government officials. The largest luncheon in the Midwest region, this event is traditionally a sell-out, boasting past keynote speakers such as Alfre Woodard, Anna Quindlen and Maya Angelou. Individual tickets and corporate tables of 10 are available at multiple sponsorship levels.
According to Diane Jordan-Grizzard, "the Salute to Career Women of Achievement luncheon is the single largest fundraiser for the YWCA of Greater Cincinnati and the proceeds from the event directly support critical YWCA programs serving more than 35,000 women and their families community-wide, including domestic violence shelters, job training and literacy, and youth services."
The mission of the YWCA is to eliminate racism, empower women and promote peace, justice, freedom and dignity for all. For more information on YWCA programs and events, please visit the website at www.ywcacincinnati.org.