ArtsWave announces the Amazing Arts Race, a creative scavenger hunt for young professionals in downtown Cincinnati, will be held Saturday, April 13. Registration is now open at www.amazingartsrace.com.  The Amazing Arts Race is generously sponsored by the Taft Museum of Art with support of The Thomas J. Emery Memorial and The Greater Cincinnati Foundation. This event supports ArtsWave's annual community campaign for the arts which runs through April 30.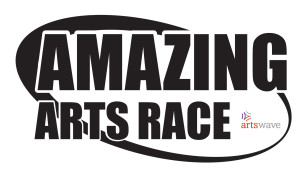 In an event inspired by the hit reality TV series The Amazing Race, teams will race to complete a series of arts challenges in Downtown Cincinnati including finding works of art and architecture, answering arts trivia, and making art themselves. Teams and organizers will use Twitter to obtain clues and complete some tasks. From origami to charades to dance breaks, these fun challenges will stretch team members' creativity. Prizes will be awarded to the first, second and third place teams in addition to random prize drawings.
 "Last year, GE Aviation organized an arts scavenger hunt for young professionals at their company," says Jared Queen, Campaign Manager at ArtsWave and Amazing Arts Race coordinator.  "Our ArtsWave Young Professionals group loved the idea and decided this year to scale it up to an event for teams from all across the region."  Teams will move around downtown by foot and/or by car to different arts organizations and works of public art.  Running gear is not required, as creativity will be as important as speed.
ArtsWave partner companies are encouraged to form teams of 2 to 4 people, but the event is open to all young professionals.   Individuals interested in being paired with a team can contact Jared directly at jared.queen@theartswave.org.
Registration is $10 per person and can be completed online at www.amazingartsrace.com.  Deadline to register is April 7. Teams will be notified by email and twitter of the race starting point the week of April 8.