Elizabeth Truitt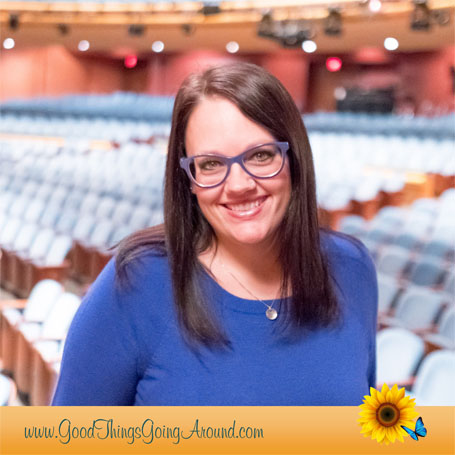 I can't remember how Elizabeth Truitt and I first met, but I know this. She has an effervescent smile that lights up a room and having lunch with her can be a ton of fun. Her passion for her work and life is contagious. It is what I enjoy so much about her.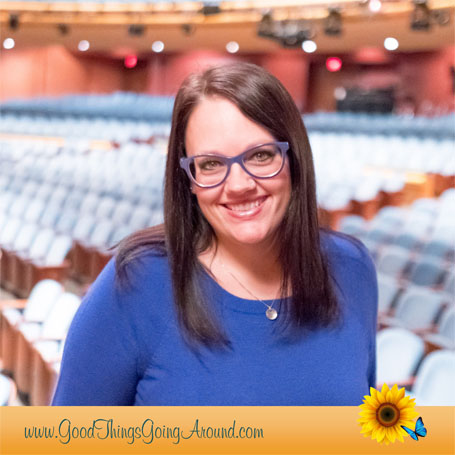 Elizabeth is the director of public relations for Broadway in Cincinnati and she loves her work. It introduces her to so many diverse and incredible people (including stars), challenges and excites her. How very fortunate for her to have a job that is so fulfilling…and how great for Broadway Cincinnati to have Elizabeth on their team!
Let's learn more about her…
Lisa: Please tell us a little about yourself, what you did before Broadway, what led you to your current job, some of your outside interests.
Elizabeth: It's hard to remember a time when I didn't work for Broadway Across America as I've been with the company for the last 12 ½ years. I've been really lucky that new opportunities became available when I was ready for a change within the company. I started in customer service in our Indianapolis office, then handled Box Office Management before moving into Group Sales. After some changes within the company, I was offered a job in public relations just over 7 years ago and moved to Cincinnati to cover the market here. I absolutely love PR and consider myself blessed to work in an industry that I'm so passionate about day in and day out. As far as outside interests go, I absolutely love to read, listen to live music and explore new places in Cincinnati.
Lisa: In your career with the Broadway series, has there been anyone (or an experience) who has significantly made an impact on you? If so, please explain.
Elizabeth: One of the first shows I worked on after moving into PR when I moved to Cincinnati was the Broadway tour of RENT. RENT has long been one of my absolute favorite shows and was actually the first Broadway touring production I'd ever seen. Both Anthony Rapp and Adam Pascal from the Original Broadway Cast were in the tour and I took them out for interviews. We had breakfast together during a break in the schedule and as we sat there discussing our cats over coffee, I realized this is my job. It all felt a bit surreal and reminded me of how amazing this opportunity is to do what I do. I get to work in an industry that offers the chance to witness incredible productions on par with what one would see if visiting New York. Cincinnati has a thriving arts community that offers so much support to the Broadway series, and I don't take that for granted.
Lisa: When I think about you, I always think about your smile. It is so inviting and you wear it a lot. What makes you happy in life and what inspires you?
Elizabeth: I'm lucky enough to have a job I love going to day after day, but beyond all of that I have an incredible community of friends and family that bring a lot of joy to my life. They're spread across several states but mean the world to me. They inspire me with their approach to the opportunities they are given and how they've risen in the face of adversity. Whether it's the loss of a spouse or cancer or a major career change, it's a gift to walk with them day in and day out.
Lisa: What is something about you that people may be surprised to learn?
Elizabeth: I love books so much I've had a part time job at Joseph-Beth Booksellers for over 3 years. I get to be around people who appreciate and support reading which, next to theatre, is probably my biggest passion. I get a lot of satisfaction from offering a book suggestion to someone and having them come back to tell me just how much they enjoyed what they read. It's a fun environment and a really amazing independent bookstore to be a part of.
Lisa: What are some of the reasons why you enjoy living in Cincinnati?
Elizabeth: Cincinnati is a really beautiful town. I grew up in central Indiana so even after living here over 7 years, I'm still not tired of the hills or view of the river. As I mentioned earlier, Cincinnati has a thriving arts community. There are always opportunities to see things on stage I haven't seen, or experience art in a way I haven't before. I didn't ever picture myself ending up here, but now I can't imagine ever living somewhere else. I love our city.