Father's Day
For everyone who has a sentimental heart, who has been touched deeply by a special man she calls 'DAD', I have a recommendation for you. Shoebox Letters – Daughters to Dads is a beautiful compilation of letters that will upl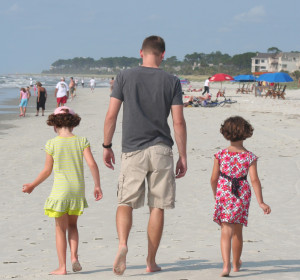 ift and melt you. Each one is a story about a loving relationship. It expresses words that so often don't get spoken out loud. The book is a wonderful reminder to us all of the importance of appreciating those in our lives who make it special (one man in particular) and letting our thoughts have voice.
Clay Brizendine is the author of the book – and a husband and dad. Once on the corporate-American fast track, he has chosen to pursue his passion for health and wellness, including relationships.
Below is a sample letter from the book. You can buy it through Amazon.com.
Dear Dad,
We've always had a special bond. Call it what you will, "I'm the apple that didn't fall far from your tree," "the relationship between father and daughter." When I once complained jokingly to mom that she loved her son more than me…her very straight-faced response, "Well…your father loves you more."
I never questioned the love from either one of you. Now that I have a daughter, I think about the power of love between people and it reminds me of the first thing you ever told me. I know the story well because you tell it at dinner parties, to new parents and to my boyfriends growing up. In the delivery room, when I was born, you say you held me in your arms and whispered, "I will love you unconditionally for the rest of your life and the Red Sox will always break your heart." Everyone laughs and remembers the second part. I remember the first. It has defined our bond. Now that I'm a parent I think about how profound those first words were. And while I'm extremely happy the second part has turned out to be only half-true, I'm especially glad the first hasn't wavered.
The feeling that I was loved unconditionally enabled me to grow up and feel secure, even when things weren't perfect. It allowed me to hear your anger when I did something wrong, take your criticism when I asked for your opinion (even when I didn't ask) and gave me the self-confidence to take risks, seek challenges and admit failure. If you have love; you have something.
You can't underestimate the importance of telling a person you love them unconditionally. You were always so vocal about it. You didn't expect me to know that you loved me just because you were my dad. You made sure I knew that you chose to love me. You told me explicitly that you loved me in every phone call, every evening we said goodnight, at least once a day and after every fight. You wouldn't let me walk away as a child unless I said it too. We even developed our own code for how much we loved each other. "I love you 7," I once said when you asked me just how much I loved you. It is to the moon and back.
You extended this love beyond your children, showing us that you don't need to be born into unconditional. You loved mom instantly and for 40+ years until she died. And you continue to love her now and you don't keep it a secret. You have invited others into this circle and treated them as family. While I have seen people fall from your graces, everyone knows that if they needed you, you would whisper in their ear again.
You have shown me the power this love instills. You have truly loved me unconditionally for my whole life. I am grateful.
It does not mean you treat me like I have no faults. You have always told me that you will be honest with me. I can't say that I always liked this approach you've taken. I much preferred hearing Mom's "If you don't have something nice to say, don't say it all" approach to life. But I do know that it's always easier to hear your Truth because I know there's an unconditional band-aid of love to put on when truth hurts.
I love you 7,
Kate
Teri Nau of Cincinnati nonprofit, Talbert House, got in touch with me to let me know about their free event for families on Sunday. It's all about celebrating DADs and creating a bonding day of laughter, fun and friendship for parents and kids.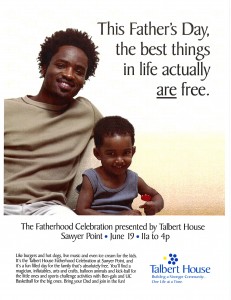 (Please click on the image twice to enlarge for details.)
Teri told me the idea for the Celebration event came about after their luncheon last year honoring Fathers-of-the-Year. They were looking for an opportunity to reach out to more dads to let them know of the agency's Fatherhood Project, a program that works with men in strengthening their connection and involvement in the lives of their children.
Talbert House is a community-wide nonprofit network of social services with over 30 proven programs focusing on prevention, assessment, treatment and reintegration. Each year, the agency helps 26,000 men, women and children across Greater Cincinnati and Northern Kentucky overcome adversity to become healthy and productive citizens through its programs in community corrections, mental health, substance abuse and welfare-to-work.