fundraise
Great for them!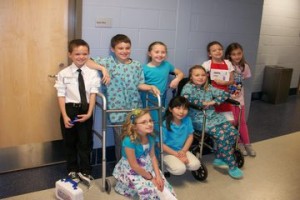 How thoughtful for these third grade students at Woodfill Elementary School to realize the loneliness of long term hospitalized children who can not have their family at their side. With the help of their teachers, and a little research, they found Josh Cares, a non-profit organization that offers loving support to seriously ill kids  when a parent or family member cannot be there. Josh Cares funds professionally trained Child Life Fellows who provide consistent comfort, care and companionship for a child whose family would be by their sides if they could.  The Woodfill students created a skit in which they role-played the responsibilities of the Child Life Fellow in the life of a child patient and charged admission to see it. They also held a bake sale.
All in all, their project raised $579.05. And not only that, it taught these creative third graders an important life lesson…about caring and responsibility.  I like those kinds of lessons.
I also want to mention this service learning project was made possible by Children, Inc.
I've known Myrna Ethridge for about five years now, about as long as I've been working with the YMCA of Greater Cincinnati. She is a board member of the YMCA Black & Latino Achievers Program who believes so wholeheartedly in the cause because she is so passionate about the success of young people. Several years ago the YMCA honored her with its Lifetime Achievement Award.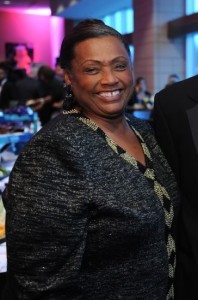 I love being around Myrna because she always has a smile. This past year, however, I didn't get to see as much of her. Myrna's split second happened in 2000. Out of the blue, this vibrant wife, mother and grandmother was diagnosed with pulmonary hypertension (PH), a life threatening disease that has made even walking up a slight incline a difficult task.
Her challenges are real and her medication costs thousands of dollars each month, which was okay when she had medical insurance, but when she turned 65 in 2007, her drug plan was no longer covered and Medicaid only paid for a portion. An organization called the Caring Voice Coalition has eradicated her fear and eased her financial burden by providing her a yearly grant for the medications costs not covered by Medicaid.
It really struck a chord with me when Myrna told me the other day, "I probably wouldn't be alive today if it weren't for the Coalition."
And so, it was no surprise to me when her next sentence was, "It is time for me to give back."
Myrna is organizing (with help from a small committee) a dinner fund raiser for the Caring Voice Coalition, which is headquartered in Mechanicsville, Va. Pamela Harris, the organization's co-founder and president, will be the special guest.
The With Every Breath dinner will be April 6, 2012 at the Sharonville Convention Center (11355 Chester Rd; 45246) beginning at 7 p.m. Cost is $80 per person. For reservations or more information, please call 513-374-8360 or email witheverybreath@fuse.net.
 ABOUT CARING VOICE COALITION
Caring Voice Coalition empowers patients with chronic diseases to meet the challenges they are facing by providing financial assistance, insurance education and patient support programs. Their holistic approach and comprehensive program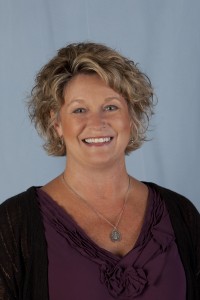 currently assists patients in the Greater Cincinnati area and nationally.
Chronic diseases supported by the Coalition are Pulmonary Hypertension, Pulmonary Fibrosis, Alpha-1, Complex Partial Seizures, Infantile Spasms, Huntington's disease, Congenital Factor XIII, Chronic Granulomatous Disorder and Narcolepsy.
Photo right:  Pamela Harris