Gorman Heritage Farm
In 2007 it may have seemed unimaginable that the run down, abandoned space on Reading Road where a gas station once stood would be transformed into one of the region's most unique hands-on learning laboratories teaching youth and adults about sustaina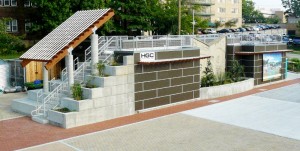 ble practices.
It was to be a dream-come-true for Cincinnati's Civic Garden Center of Greater Cincinnati. The staff of the Center brought the idea…along with a request for funding and professional leadership support to a group of local philanthropists wanting to build the capacity of area nonprofits.
And soon, the very first grant of Social Venture Partners Cincinnati (SVP) was awarded. By 2009 the innovative Green Learning Station was open, teaching people about environmentally responsible methods for growing gardens – anywhere and everywhere. That includes yards, walls, patios, driveways, parking lots…and even roof tops.
SVP not only granted the Civic Garden Center $74,000 over four years, its partners also gave of their professional expertise and time. They provided guidance and assistance with strategic planning, leadership development, marketing, and fundraising.
That is just the beginning of the SVP story. Since June, 2008 until December, 2011, the organization and its 38 partners have invested over $598,000 collectively including financial contributions and professional service volunteer time to four different Cincinnati area causes. (SVP is in the process of deciding upon its fifth investee.) Those nonprofits include – the Gorman Heritage Farm, Whole Again International, Imago for Earth, and the Civic Garden Center.
Money is good. Capacity is better.
 "We had the audacious idea that, instead of just throwing money at a nonprofit to address its needs, we would throw ourselves into the organization, giving of our diverse talents to become a true partner," SVP Chair Wijdan Jreisat wrote in its report to the community. Wijdan is also an attorney at Katz, Teller, Brant & Hild.
When I spoke first with director Lisa Davis Roberts, director, and then Wijdan, their passion came through loud and clear. If we had had all day together, I know each of them could have spent the entire time talking about their common cause.
How does it work?  At the heart of SVP are its partners who each donate a minimum of $6000 annually and volunteer their time. (There are 38 partners in Cincinnati.) They go through a rigorous process in deciding upon the organizations they will support, and then, for the next three years they basically give of their hearts and their minds to further missions that are important to them.
 "SVP is hands-down my favorite volunteer experience," said founding partner Susan Ingmire, president of Ingmire Philanthropy Advisors.