Holly Young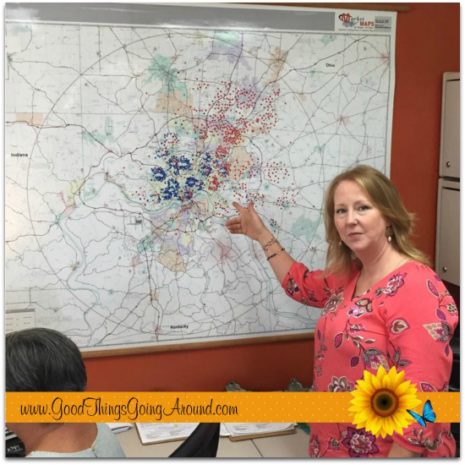 Holly Young walks to a map of Greater Cincinnati hanging on the wall behind a front desk where there are many hundreds of blue and red dots, so densely populated as to obliterate entire blocks, even neighborhoods. The blue dots represent homes were lasting memories were created on or around furnishings that are no longer needed. These are the places where New Life Furniture Bank begins the process of ending the cycle of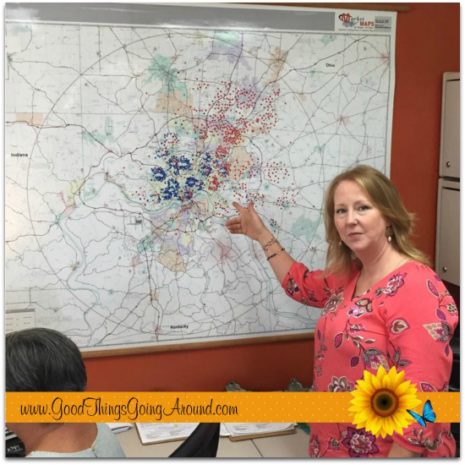 homelessness one individual, one parent, one family at a time. The red dots on that map represent all of the dwellings where that donated furniture has found a 'new life,' amidst a family who has moved into a place to call home with often nothing but the clothes on their backs.
Since that day ten years ago when a Teresa, mother of three children, stayed overnight at Holly's church through the Interfaith Hospitality Network, Holly's passion and mission in life has exploded from seeking out three mattresses so that Teresa's children would not have to sleep on mattresses their mother pulled from a dumpster into a nonprofit the more than 1000 volunteers, two delivery trucks, five employees, and such a huge stock of donated furnishings that they have outgrown their 5000 sq ft space and are searching for 20,000 sq ft of storage. New Life Furniture has relationships with 18 homeless shelters and agencies, as well as over 60 places of worship. In 2015 alone, it has provided furniture and housewares to 1424 people including 752 children.  The organization is faith based, having originated from the generous outpouring of support from Holly's church; however, it helps people of all religions and backgrounds.
In addition to furniture, every family receives a package of dishes and household items, a welcome home bag with personal care items, cleaning supplies and hangers. Whenever beds are delivered, they go with blankets, sheets and pillow cases. And, volunteers build dining room tables for families so they have a place to congregate around and share experiences of their day.
Holly is quick to point out that 85% of those who move into a dwelling without furnishings find themselves back on the streets. That number isn't acceptable to this mother who has always, from a child, been sensitive to those less fortunate. "I am that child who kept asking my parents, why aren't we picking that person up. I knew it was my calling," she told me. "I worked the corporate world but I just knew my heart was in serving the homeless. I am the one who goes to a ball game and packs four lunches to feed people. I was the person who would stop and make sure people knew where to find shelters."
In Holly's words:
"So many of the people we have helped have touched me in deep, very personal ways. I have lots of stories in my mind from when I did the deliveries myself. I remember Moses well. We walked into his very small apartment and all we saw was one chair. Moses was smiling ear to ear.  He was 78 yrs old and walking with a walker.  With each piece we carried in he just giggled, and said. 'Is that for me?'  And I said, 'of course it is.'  I peeked into his empty bedroom and noticed a Veterans ball cap that had Vietnam on it.  'OMgosh,' I said. 'Moses are you a veteran?  My dad also served in Vietnam and retired as a colonel.'  He proceeded to share a bit of his story. He served the same time my father did…….and how in the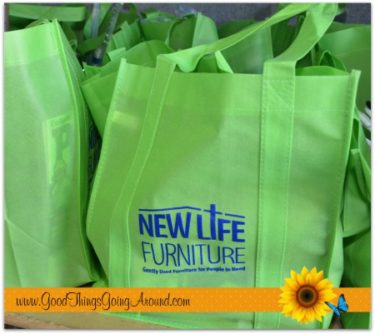 world did this happen to Moses?  How did he become homeless and in such need?
We proceeded to fill his empty apartment and make it a home…..His home.  We were so grateful we get to serve a man who served us,  a man who fought for our freedom.  He teared up many times and I just hugged him tightly and cried with him.  I thanked him for serving his country.   He said he didn't know he deserved all this stuff, and I assured him he did deserve it.  We left his place with such a full heart.
Our goal is to always do this from a place of dignity. Our delivery people are trained to be compassionate and we send follow up cards to everyone letting them know we are thinking about them.
This work has been such a blessing for me. Never did I dream this would grow so big. Now funders and donors are coming to us. We have way outgrown this space. We are at a place now where I can step back. God has told me it is time to go on to other things. Actually he told me that two years ago but I kept going. Dana Saxton is our new executive director but I will always still be involved."
If you would like to help, please reach out to New Life. They are especially in need of mattresses.