Hospice of Cincinnati
I have looked in the eyes of many gentle souls, and I have felt the love that so naturally passes through them to those within reach. Tina Bross, BS, LMT, supervisor of holistic services for nonprofit Hospice of Cincinnati, is among them.
On the bitterly cold day that we sat across the table from each, two people who had never met brought together by our shared passion for animals and for our desire to help others. (And by Wayne 'Box' Miller, manager of diversity and communication for Hospice who I've known for years.)
But Tina has this magical way of transforming strangers into friends very quickly. It is a beautiful gift, and one that makes her so well suited for her role at Hospice.
The people who are assisted by the organization are there to live out their final days in peace. They know there is no longer hope for one more year, one more season. It is their time to say their last good-byes on earth to those who shared love, laughter and even tears with them on their journey called life.
I think Hospice of Cincinnati is such a very special organization. It allows families to spend last days and minutes together in an environment where they can simply focus on being together. And Hospice gives people serenity to know it is okay to leave.
The program Tina oversees is one that is charged with tending to patient's animals, providing loving care for them and working to find forever homes for pets when family members are not available.
Pet Peace of Mind
Pet Peace of Mind was begun in 2007 by a hospice chaplain who also happened to be a vet, and by 2009, with financial support from the Banfield Charitable Trust, the program went national. Tina immediate sought approval from her board to bring it to our area.
In the beginning she sent out surveys to help determine the types of services they would provide, but what Tina hadn't expected was some of the unforgettable responses that were returned with the questionnaires.
"Helping my patients with their pet related issues is the most heart-wrenching part of my job," a nurse wrote on one. They are words that have been permanently etched in Tina's mind.
I could see tears welling in the corners of her eyes as she spoke to me.
"People have such strong bonds with their pets. Many of the people in our care are older and their pets are their family and their comfort," Tina said.
Meet Lucy
Lucy's caregiver was a single man whose life revolved around her. It was a year after he brought her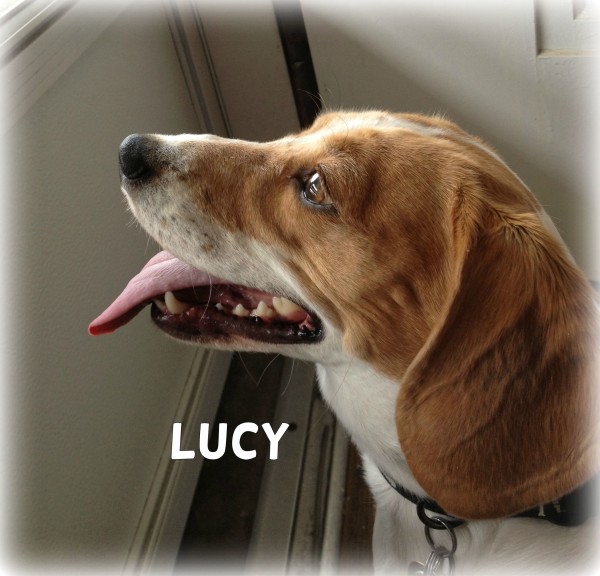 into his home that he was diagnosed with terminal cancer. "He told me he only cried two times and that was when he was thinking about her," said Tina. "I told him, 'I want you to know we will find Lucy a good home.'"
After his death, Tina kept her word. She and her team found a foster family for Lucy and ultimately a loving family with two little boys where she will spend the rest of her days.
"I wish I could tell him, 'She's good!'," Tina told me, her words difficult to say.
I somehow have a feeling he knows.
More about Pet Peace of Mind
The Pet Peace of Mind® program assists Hospice of Cincinnati patients and families with care and feeding of their beloved pets. Pet Peace of Mind offers helping hands through volunteers and pet-related financial assistance.
Services include:
In home help with routine pet-related chores like feeding and walking
temporary boarding or foster
transporting pets for vet or grooming appointments
delivery of supplies like food and litter
permanent placement of the pet if necessary
emotional support
How can you help?
Volunteer
Donate