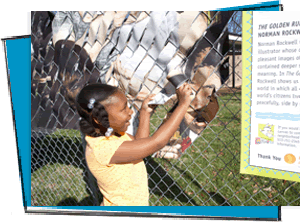 Children at area Cincinnati Recreation Centers will get an added level of fun this summer, when Happen Inc's Community Canvases pop at area pools. The canvases will have an image from Cincinnati Art Museum's Eternal Summer: Edward Henry Potthast exhibition, and children will be asked to join in on some ART FLASH MOB  fun and help assemble the canvas right there on the spot on the fence at the pool.  Parents you can join in too.  Ten canvases will go up during the ten weeks that the Cincinnati Art Museum celebrates the Tenth Anniversary of the Cincinnati Wing . Those ten weeks are called Cincinnati Summer. Ten Cincinnati Recreation Centers are participating.
The first five are:
Millvale:   Tuesday   June 18th   11 am-1pm.   3303 Beekman Street
Pleasant Ridge:   Saturday   June 22nd   1pm-3pm.    5915 Ridge.
Winton Hills:   Tuesday  June 25tth   11am-1pm.     5170 Winneste Ave.
Hanna:   Saturday June 29th 1pm- 3pm  226 Stark Street.
Bush: Tuesday July 2nd 11am- 1pm.  2460 Kemper Lane.
Community Canvas is a free Happen, Inc. program that turns an average chain-link fence into a famous work of art, literally bringing art into the community. The canvas begins as a collection of long paper strips, each displaying one section of a famous work of art.  Community Canvas is a great way for a school, museum, library, community center, or other organization to bring art into the community. At the opening event, participating children and adults take turns weaving the strips into an empty chain-link fence. When the canvas its up it remains on display for 30 days.
Founded in 1999  Happen, Inc., a nonprofit organization, create a positive environment for parents and children through art-related activities and experiences designed to strengthen both the family structure and the community as a whole. An estimated 7,000 children in Greater Cincinnati each year experience the arts through Happen programs. Happen, Inc recently won the prestigious Cincinnati Post-Corbett Award for Arts Education and Outreach.