Ingrid Bianca Byerly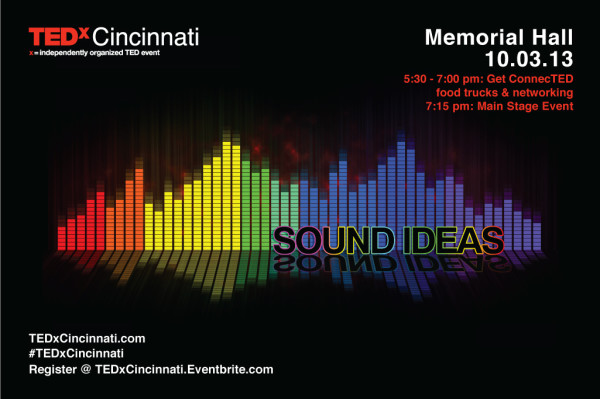 They Are Among Our Region's Most Intriguing, Thought Provoking People
On October 3, They Will Be Center Stage As TEDxCincinnati Presents "Sound Ideas"
What does the producer of a new romantic comedy film, 'A Strange Brand of Happy', have to do with Patti Ann Collins – wife of Rock and Roll Hall of Famer Bootsy Collins, Libby Hunt – the executive director of nonprofit WordPlay, Dr. Jason Singh – executive director of the international OneSight Foundation, and Ricky Nye – a driving force behind the annual Blues & Boogie Piano Summit have in common? They ALL have impactful messages of inspiration AND they will ALL be among the powerful lineup of presenters at the TEDxCincinnati's Main Stage event on Thursday, October 3 at Memorial Hall in Over the Rhine (1225 Elm St).
With the last two events having sold out, TEDxCincinnati is an independently organized program licensed by TED that brings thought provoking ideas to life with engaging speakers and performers. Themed 'Sound Ideas', the October 3 event will feature a diverse collage of unique performers and speakers. Networking and time to meet the speakers/performers will run from 5:30 to 7:00 pm. The speakers and performers will begin promptly at 7:15pm.
Please click here to register.
"Many Tri-State residents already watch TED Talks online to discover new ways of thinking about technology, entertainment, design, business, science, and global issues. But if you aren't yet familiar with TED Talks, we encourage you to come to our "Sound Ideas" program," says TEDxCincinnati Organizer Jami Edelheit. "Although TEDxCincinnati operates independently of TED.com, we try to give Cincinnati area residents the same type of unforgettable experience they would enjoy at a live TED Conference. In addition to seeing riveting talks and performances by remarkable people, you can get connecTED with people of all ages and backgrounds who are open to new ideas."
The "Sound Ideas" program by TEDxCincinnati will be the Thursday-night keynote event for Cincinnati Design Week, September 30 through October 5. Cincinnati Design Week is presented by CODE and AIGA Cincinnati.
Tickets for TEDxCincinnati "Sound Ideas" are $25.00. A limited number of tickets for students are available for $20.00. Tickets must be purchased in advance on Eventbrite, http://www.TEDxCincinnati.eventbrite.com
"Sound Ideas" Presenters
Patti Ann Collins – The wife of Hall-of-Fame funk musician Bootsy Collins, Patti Ann Collins is President of the Bootsy Collins Foundation which was established to assure that all people, regardless of their finances, get proper treatment for health-threatening dental conditions.
 Libby Hunter is the executive director and co-founder of WordPlay
Dr. Jason Singh is Executive Director for OneSight, a nonprofit organization providing sustainable access to quality vision care and eyewear in underserved communities worldwide.
Dr. Ingrid Bianca Byerly teaches ethnomusicology on the faculty of Duke University and the University of Virginia's Semester at Sea voyages.
Joe Boyd is the founder and president of Rebel Pilgrim Productions, a film, television and web media production company that tells stories that spark people to hope and action.
PERFORMERS
Ron Esposito, M.A. plays Crystal and Tibetan Singing Bowls to create music that is quiet, dreamy, and introspective.
Dr. Tonya Matthews is an award-winning writer and poet who is known as the JaHipster
Ass Ponys was an indie rock band based in Cincinnati, Ohio.
For more details on the program, visit TEDxCincinnati.com.
In the spirit of ideas worth spreading, TEDx is a program of local, self-organized events that bring people together to share a TED-like experience. At a TEDx event, TEDTalks video and live speakers combine to spark deep discussion and connection in a small group. These local, self-organized events are branded TEDx, where x = independently organized TED event. The TED Conference provides general guidance for the TEDx program, but individual TEDx events are self-organized. (Subject to certain rules and regulations.)
About TED
TED is a nonprofit organization devoted to Ideas Worth Spreading. Started as a conference in California 26 years ago, TED has grown to support those world-changing ideas with many initiatives. On TED.com, talks from TED conferences are shared with the world for free as TED Talks videos. A new TED Talk is posted every weekday.