Jenn Jordan
I was reminded the other day of how great it has been knowing that my public relations career has been focused on bringing awareness and relationships to some truly impactful causes and organization.
And a client about which I was so passionate and miss the most was an organization called the Inclusion Network. For eight years I worked with them year round promoting the message that everyone has gifts and abilities, and that bringing those unique gifts together we strengthen each other. We strengthen our community.
I was one of the lead producers of the Inclusion Leadership Awards Event responsible for the strategic messaging including hiring and working with speakers to keep their speech on target, writing the script and the videos, working on all facets of the program portion, coordinating the media relations and more. And I saw that event grow to where it was hosting more than 900 people at the end.
Business and community leaders, professionals, housewives, students, volunteers, people who walk and people who use wheelchairs, people who benefit from large print programs and open captioned video screens, sign language interpreters or cups with handles instead of glassware all came together for a two and a half hour event that was designed to somehow change the world as they knew it. They heard about stories of organizations that instinctively know how to uncover talent, and of people, whose abilities are no longer obscurities. Acceptance was no longer an abstract. Inclusion, they learned, was not about THEM, but about ME.
Actor Danny Woodburn continues to stand out to me as the speaker whose message I will always remember. Danny shared his story of an actor, comedian and activist whose talents were born in the hardships of a world unaccepting of a medical condition known as dwarfism. All too well, he knows the sting of rejection and ridicule because he has lived it his entire life. But Danny told our vast audience that through his work, he has had the ability to influence attitudes. Offensive words, he has found, are generally rooted in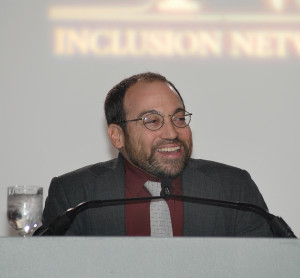 misunderstanding and he openly corrects producers, directors and other actors.
At the end of Danny's speech I remember he told us, "Even though every script is a battle to see how much I will comprise, it is worth it as long as there is dialogue." Then he looked into the audience and added, "It is inspiring to me as I look out at all of your faces and see that there are comrades in this battlefield."
To this day, Danny's words and character continue to impact me. Sure, I love the fact that every time we talk he can always make me laugh but what I love even more is Danny's true depth of humanity. He is truly one of those unique gifts and someone who I feel so blessed to be able to call a friend.
And the reason I am bringing this all up is because it is all leading up to a new client that is allowing me to continue this path of bringing communities together through the differences that make people uniquely great.
Organized by Cincinnati nonprofit LADD (Living Arrangements for the Developmentally Disabled), the Cincinnati ReelAbilities Film Festival is our region's largest film festival that explores the world as experienced by people with disabilities. It will include a a star studded awards premiere luncheon, gala, and 30 film and speaking events throughout Greater Cincinnati. All of the film screenings benefit local nonprofit organizations that enhance the lives of people with disabilities.
The Festival will be February 27 to March 7, 2015 and next week I invite you to join us at our big red carpet unveiling party at the eloquent Obscura cocktail lounge in downtown Cincinnati from 7 to 9 pm. The films and venues will be announced before hundreds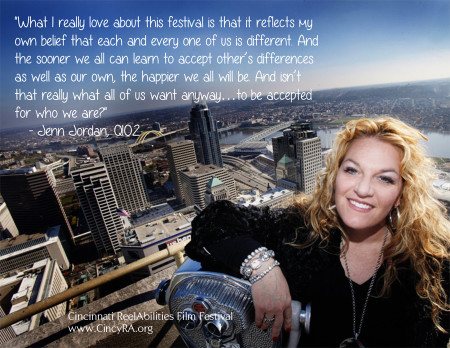 of guests by actor John Lawson and Q102's Jenn Jordan.
Here is a link to register for the free event.
The ReelAbilities Film Festival was founded in 2007 in New York City by the Manhattan JCC and has grown to become the largest film festival in the country dedicated to sharing the stories, lives and art of people who experience disability. It is now headquartered in Cincinnati and is a division of LADD. It includes a total of 13 Festivals across the country. Cincinnati holds the second largest one.
Danny, who most recently plays the voice of Splinter in the new Teenage Mutant Ninja Turtles movie, was recently interviewed in Soapbox Media about ReelAbilities.

"Actors with disabilities are 90 percent less likely to be seen, and many characters with disabilities aren't actually played by actors with disabilities," he said. "It's important for work like this to be done, and if I have the chance to speak out and be heard because I'm recognizable from being in the public eye, then I feel it's my responsibility to do so."

"But this isn't just about actors getting work," Woodburn continues. "Two-thirds of people with disabilities are unemployed; we need to raise awareness of that fact. If we want that to change, we as a society have to create an environment for change."