Julie Smith-Morrow
On Tuesday, December 3, 2013 people across the country will consciously perform acts of kindness. And nonprofits with a huge range of services have signed up to encourage those acts. It is all part of a movement called #GivingTuesday.
What is #GivingTuesday?
Well, it is a simple concept really. Organizers are simply asking that people of all ages and backgrounds, individually or as a group, come together to give something more. Then share how you are giving.
It's a simple idea. Just find a way for your family, your community, your company or your organization to come together to give something more. Then tell everyone you can about how you are giving. Be a part of a national celebration of our great tradition of generosity.
Locally, Dress for Success is one organization getting involved.
Part of #GivingTuesday, #GivingShoesDay encourages women to donate their professional shoes to Dress for Success Cincinnati. The local nonprofit is asking people to bring their new or gently used shoes to the Dress for Success Cincinnati Donation Center at 208 McFarland (near 4th and Elm) in downtown Cincinnati between 11:00 am – 3:00 pm. The person who donates the most shoes on #GivingShoesDay will have the chance to win a complimentary pair of limited holiday edition Palace heels from Fergie Footwear.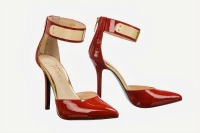 "Dress for Success Cincinnati gives interview appropriate clothing to disadvantaged women and having the right shoes is key to building self-confidence and a great first impression," said Julie Smith-Morrow, CEO of Dress for Success Cincinnati. "We rely on the generosity of our community to provide the shoes, clothing and accessories needed for all of our women. GivingShoesDay is a great opportunity for the community to give back during this festive time of year."
For more information on Dress for Success Cincinnati and #GivingShoesDay go to www.dfscincy.org.